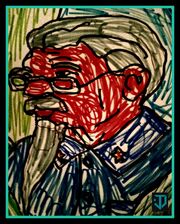 Emperor,
Degotoga K. Atagulkalu
 began on February 24, 2017, to
his death on March 3, 2019
. Due to his
Decisive Victory in the 2017 Special Election over the
Communists
, he would become the first Monarch since
Timothy Max Roosevelt
to reign Chawosauria with a Decisive Hand. 
A Social Democrat, he remained Chawosauria's Traditional Political Spectrum which it is the Left-Wing. DKA was responsible for the rise of Social Security, Universal Healthcare, Civil Rights, the Constant expansion of Labor Unions, and Universal Education and Housing. Despite his opposition to Space Colonialism, he was unable to disable the Space Colonization Process. 
First Monarchy
Edit
DKA was chosen to succeed Oconostota Eluwilussit for the Vacated Throne vacated by Malina Lusa Parker after her death in February 2017. DKA focused on opposing Trump's Presidency by spoke against the American Healthcare Act of 2017, Trump's Travel Bans and other policies.
Second Monarchy
Edit
DKA was slightly reelected to the Monarchy with a Popular Vote Tie with Timothy Max Roosevelt II, during his Second Monarchy, he focused continuously on Trump, while at the same time, he faced a major challenge, Jonathan Ludwig Bismarck II, and his Empire now attempting to overthrow Chawosauria. Chawosauria was losing lots of its territories. DKA's huge struggle began to mercilessly hurt DKA. DKA's idea of fighting back was widely unthinkable, not even Timothy Max Roosevelt himself dared thinking of it. Using Pandemic Weapons. DKA had developed and prepared to use them against the Bismarckians.
Third Monarchy
Edit
Coming soon.
Public Policy
Edit
Foreign Policy Edit
the United States Edit
DKA, as Emperor, signed Executive Orders to limit Chawosaurian Americans from having access to immigration to Chawosauria until President, Donald Trump leaves office in either 2021 or 2025.
The European Union Edit
Emperor, Degotoga provided regulations on the Chawosaurian European Parliament, the Chawosaurian Faction of the European Union.
War on Terror Edit
DKA believes Chawosauria should stay away from the Wars in the Middle East, DKA also limited the immigration of Chawosaurians who live in the Middle East.
Social Policy Edit
Religious Freedom Edit
DKA attempted to add "Religion" in his Civil Rights Act of 2017 but failed due to a Public Backlash. DKA opposes Section 126 but has no power to repeal it because of the Mhasalkar Decision requiring the National Federal Government of Chawosauria to recognize Religion and other Cults, Rituals, etc, as National Federal Crimes. There is nothing DKA could do to reverse Religious Persecution and Discrimination in Chawosauria.
Civil Rights Edit
DKA has absolute power to advance the Rights of Civilians who are of Racial, Ethnic, Gender, Sexual, Ancestral and Mental Minorities. By passing the Civil Rights Act of 2017. DKA has No Power or Right to advance the Rights of Religious Chawosaurians due to the Chawosaurian Supreme Court, who has more power than the Emperor, Foiling DKA's mission to reverse State Atheism.