The Stories of the Bonds of Love are divided into two, Love Stories of Filth, and Love Stories of Beauty, the most beautiful and powerful love stories is Abooksigun Eluwilussit and Adsila Ahyoka, a powerful message in the end. 
Longest Romantic Relationship and Marriage in Chawosauria
Edit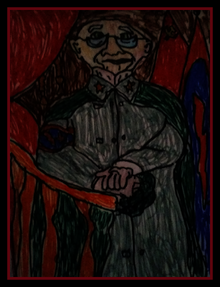 The Relationship between Timothy Max Roosevelt and Elizabeth Mary Alexandria was the longest relationship in Chawosauria, the bond lasted from 1933 and ended in 2011 under Timothy's death. The relationship was both dark and beautiful, but one of the most nastiest and precious, Timothy and Elizabeth fell in love, a love which would violate Age of Consent Laws of the United States, and Timothy and Elizabeth were of the two different races, back in the 1930s, it was illegal in some states for Interracial Couples to marry and have sex, Timothy married Elizabeth in New York, where Interracial Marriage was legal still from the 1700s to today.
Timothy and Elizabeth had finally hit their legal ages and Elizabeth gets pregnant with their first child in 1939, and moved to Australia and gave birth to that child in Canberra in 1940.
Powerful Love Stories
Edit
Abooksigun Eluwilussit & Adsila Ahyoka Edit
Abooksigun Eluwilussit and Adsila Ahyoka were a Native American Married couple and their love story was powerful and beautiful.
The story starts with when they met in 1965, Abooksigun and Adsila were both 15, Adsila was madly in love with Abooksigun and learned that Abooksigun was a Native American Immigrant from the Atlantic Coast of Canada and Adsila was from the Southern Part of the United States, born in the Cherokee Reservation of Oklahoma, the Cherokee Nation, Abooksigun was widely rumoured that he came into the United States without Immigration Documents, which was a true rumor. In 1967, they finally bond and fell in love, they participated in the 1968 U.S. Presidential Election and they voted for separate candidates, Adsila voted for Eugene McCarthy and Abooksigun voted for a Communist candidate.
It became truthful that Abooksigun was an Undocumented Immigrant, despite this, Abooksigun and Adsila married in 1969 and had a daughter in 1970, Adsila fears separation from her husband and Abooksigun and Adsila both promised that they would not allow Deportation go between their marriage and threat their children of losing a father.