"Jonathan Dragan Bismarck XVII the Grand Count, Grand Knight, Knight Prince, Count Asen of Bucharest, was one of Chawosauria's most powerful, influential, and strong statesmen in the History of the Empire of Chawosauria. A winner of the Order of Asen, he was born with blessed blood on January 26, 1890, and he died a blessed soul on December 25, 2013. He was the father of a Chawosauria with immense strength, he was the last of the Western families, and the last of the Santiago Era Prime Ministers to stand on the earth with pride and a defender of the working man in Chawosaurua, but also a defender of his cause although it wasn't popular. A true patriarch of the Bismarck family and a god to its political dynasty."
—An Obituary to Jonathan Dragan Bismarck XVII, December 26, 2013.
Jonathan Dragan Bismarck XVII
, officially
Jonathan Dragan Bismarck XVII, Count Asen of Bucharest
, later known in his later life as
Jonathan Dragan Bismarck XVII, Grand Count
O.A. (First Class)
(also known by his initials as
JDB
or officially
Jonathan D. Bismarck
or simply
Jonathan Bismarck
) (January 26, 1890-December 25, 2013) whose prominence is so high-up in the
Bismarck Family
out of all its family members.
Jonathan Dragan Bismarck the 17th
was a
Half-Blood
European Chawosaurian
aristocrat
ordained at birth as a
Count
,
baptised
as
Count Asen of Bucharest
,
Knight Prince
, and
Saint Asen
, he served as a politician in the
Chawopolis Palace
and eventually held the position as the
6th
Prime Minister of the Empire of Chawosauria
between January 1, 1940, to December 31, 1979, with a record of four terms.
The second Prime Minister in Chawosaurian History to serve with a record four terms, the first Prime Minister to have served this number of terms since his 17th cousin twice removed, Frederick William Schwartz, while Prime Ministers following Schwartz and before Bismarck have all failed to achieve a second term, Malcolm Lyons MacKenzie Wilson failed to achieve a second term because his public image was permanently tarnished after suffering two straight humiliating losses in the 1905 midterm elections and the 1906 U.K. general elections, Garfield Lucas Webster failed to achieve a second term because he got brutally sick from the 1918 Spanish Influenza pandemic, Theodore McClellan declined a planned-second term because of fears of backlash his party suffered over the Great Depression, and Jonathan Davgon Bismarck X declined the opportunity of a second term because of his unpreparedness for the newly broken out Second World War. Bismarck served under Emperor Santiago.
No Prime Minister after Bismarck had succeeded in taking a second term, Leonid Ivan Bzovsky was mentally unfit, Shang J. Parker was undergoing surgery, Jonathan MacAlasdair's unpopularity and the Emperor's dementia, and Jonathan Dragan Boleslaus IX's path to a second term was blocked by the anti-Communist, and social democratic Supreme Leader, Degotoga K. Atagulkalu.
A high-ranking, most prominent member of the Bismarck Family of all family members, Jonathan D. Bismarck was born masterfully wealthy on January 26, 1890, in the Romanian Capital City of Bucharest, in was then the Kingdom of Romania in Bismarck Manor, to Jonathan Dragan Bismarck XVI, a Romanian Orthodox priest, and a Norwegian woman, Charlotte Baardsen. As a child, the oldest of six children, being older than his five siblings, Leopold Van Bismarck (1900-2005), Wolfgang Van Bismarck (1900-1995), Madalena Adolfina Bismarck (1906-1915), Dionysus Wesley Bismarck (b. 1910), and Elisaveta Marissa Bismarck (b. 1910). He was an attendee of Lievremont Academy, a prominent Chawosaurian boarding school, and became part of the Chawosaurian European political community in the mid-1900s.
Bismarck's rise to fame, and power, began in the 1909 legislative elections after getting elected to the Chawopolis Palace representing Romania's Bucharest District, famously defeating the incumbent Wolfgang Boleslaw for the nomination of the Chawosaurian faction of the National Liberal Party of Romania, and famously defeating his tough opponent, Pete Brăescu, of the Social Democratic Party, in a surprise landslide victory, and he served his first term in the Palace advocating for right-wing populist concepts including Welfare Chauvinism, Protectionism, Nativism, Anti-Globalism, Neo-Nationalism, Anti-Environmentalism, and opposition to Immigration.
He spent his time in the Palace supporting Christianization, advocated for Conservative policies, and Romanian nationalism. During World War I, he regained public trust by advocated for social help for Chawosaurians, especially those in Europe, who suffered badly in the war, in the Russian Revolution, he feared the rise of Communism, and advocated for laws against Socialism.
After Jonathan Davgon "Bull Moose" Bismarck X announced his retirement as Prime Minister, Emperor Santiago, against the request from Bull Moose Bismarck, nominated Bismarck to succeed Bull Moose, and was sworn in at Adare Manor in Ireland on January 1, 1940, despite World War II going on. As Prime Minister, through the 1940-1945 Government, Bismarck, and his liberal party government, modestly guided Chawosauria through the war, and barely passed any legislation, and often met with his predecessor, Jonathan Davgon Bismarck X, at Grand Marais, Minnesota. Bismarck controversially supported the Nazi Party of Adolf Hitler and advocated for the extermination of Jewish people in support for Adolf Hitler and his Reich. In 1943, he was the center of controversy in the murders of the Lievremont family in Haute-Savoie, Nazi France, the family known for founding Lievremont Academy in 1741. Bismarck attempted to pressure a Nazi soldier from Austria, Jonathan Sarban Boleslaus VI, to murder the family and rape their daughters, but Boleslaus refused, and Bismarck secretly exposed the Lievremonts' hiding place from the Nazis, and the Lievremonts were stormed and killed by the Nazis as a result of it.
In the 1945 midterm elections, after the end of World War II, Prime Minister Bismarck suffered such a life-changing defeat, the Chawopolis Palace switched its allegiance from Jonathan D. Bismarck to Timothy Max Roosevelt through the 321 seats flipped from the overall Capitalist parties led by Bismarck himself, to the Communist Party led by Timothy Max Roosevelt, who later became "Chawosauria's Darling". Bismarck suffered the second largest smackdown before the 2017 legislative elections, and Bismarck was forced to forge a bipartisan alliance between the liberals and the conservatives against this new Communist government, Bismarck founded the Coalition Party and led the party until he left office in 1979, and suffering from an "end-of-term curse" by living through the Cold War, watching the Soviet Union become a stronger world power, China falling under Communism, as well as two disastrous wars in Korea and Vietnam, his Anti-Communist alliance in the Chawopolis Palace plummeting in the elections of 1949 to 1965, and his collapsing popularity in the 1970s.
Bismarck led Chawosauria through a wave of alleged ghost hauntings during the First Ghostly War, he commanded Chawosauria through the Second Brutal War, attempted to combat the Communist Party in the 1975 elections, he was elected Leader of the Opposition against Timothy Max Roosevelt, and he left office completely in 1979 to a successor, Leonid Ivan Bzovsky. In 1981, he fully and officially retired. Bismarck lived a quiet life in his early retirement in Biertan, Romania, one of Bismarck's favorite cities in Romania, after returning to Poiana Brasov, Romania, a ski resort where Bismarck died on Christmas Day, 2013, at the age of 123, making him the longest-lived Chawosaurian Prime Minister in Chawosaurian History. Bismarck attempted to pressure his grandchildren into marrying each other through first cousin marriage an attempt to keep the Bismarck name and blood in the family bloodline. This mission was accomplished modestly, one of his grandchildren married a very distant blood relative from Germany.
Jonathan D, Bismarck had a god-complex feeling about himself, very especially with his inhumane treatment of Chawosaurian Jews. Bismarck was the most antisemitic Prime Minister in Chawosaurian History. Praised Hitler for the Holocaust, and promoted racial antisemitism, not to mention he aided some concentration camps that were trying to destroy the Jewish race, and in 1948, when the United Nations helped to establish the State of Israel for the Jewish people, as part of a long struggle and dream for the Jewish people to escape persecution, Bismarck strongly accused the Jews of stealing the Land of Israel from Christians, and declared Christians as the "true owners of Israel", causing Bismarck to hold an Anti-Zionist worldview against Israel, and an escalating hatred for Jewish people caused by Israel's rebirth. Bismarck declared war on the Jews in Chawosauria, thus starting the Second Chawo-Jewish War, and worsened antisemitism with his Jewology program. Bismarck eventually became a white supremacist icon among Chawosaurian White Supremacists for his human rights record on non-whites, and to some, a Conservative icon for his staunch socially conservative views and policies on abortion, homosexuality, cannabis, and progressivism. Bismarck was the most right-wing politician in Chawosaurian history. He advocated for a corporatocracy and he was hostile to environmentalism, secularism, and social democracy.
Bismarck is widely viewed negatively by the Chawosaurian public as of 2019, he was the last Christian in Chawosaurian History at least until Jonathan Sidney MacCarthy III to have claimed the Premier's office. Bismarck's whole biography was recorded by James Gesaffelstein.
Since June of 2019, Jonathan Dragan Bismarck XVII Day, a newly proposed holiday, was installed in some areas in Chawosauria meant to celebrate the birthday of Bismarck. Leading to a controversial political debate surrounding his legacy. On June 23, 2019, the founders of the Continent Union signed its founding document and peace treaty in the city of Bucharest in honor of him (Treaty of Bucharest) and caused a Jewish backlash against the supporters of the Continent Union.
As of July 1, 2019, the Bismarck National Memorial was completed and it opened on Bismarck's 130th birthday in tribute to his death. The memorial was constructed in tribute to his memory.
Early Life
Edit
Gothic Childhood Edit
Jonathan Dragan Bismarck XVII was born on January 26, 1890, in Bucharest, Romania, in Bismarck Manor and Cemetery in Romania. Born to Jonathan Dragan Bismarck XVI, a Romanian Orthodox Priest, and Charlotte Ellie Baardsen, Bismarck was delivered by Jennifer Holdsworth, and she took charge of the birth procedure. On March 10, 1890, he was baptized at the Romanian Orthodox Church as Count Asen of Bucharest, Knight Prince, and other aristocratic titles. Growing up, Bismarck grew up studying Christianity with his father and his family were known for their role in the Romanian War of Independence, Bismarck lived a gothic life, living next to a graveyard, sometimes prefers to sleep at a graveyard, and study at the graveyard, the graveyard of his ancestors.
He became enemies with a person his age, Spiridon Athan Bakirtzis, and hated the fellow aristocratic Bakirtzis family for their treatment to the Romanian Bismarcks, sparking hatred towards each other. Bakirtzis made an enemy out of Bismarck's first-cousin-once-removed, Gregorios Dragan Bismarck III.
Education Edit
Bismarck learned his Romanian language from his father. Bismarck's dad used The Canterbury Tales (translated in Romanian) to teach him to read. Bismarck used the same tales in Middle English to teach him the English language. One of the origins of Bismarck's antisemitism was that his father also used antisemitic literature and publications, prominently The Prioress's Tale, the Mirror of the Polish Crown, and La France juive.
In 1903, the thirteen-year-old Bismarck was given a book, The Protocols of the Elders of Zion, an antisemitic book that alleges Jewish or Zionist control of western governments. The book was given by his uncle Gregorios. Bismarck used the book to teach himself to read Russian since the book was published in Russian, the book wasn't published in English until 1919.
Lievremont Years (1901-1907) Edit
On July 31, 1901, Bismarck was given a letter says he's been accepted to Lievremont Academy, a Chawosaurian Boarding School located in the French Alps. Bismarck was given an opportunity to move to France to attend a boarding school. On the train ride to Lievremont from Switzerland, Bismarck befriended an member of the MacAlasdair family, Jonathan Lachlan MacAlasdair VI, and since they have the same name, they decided to address each other by their middle names. Bismarck also befriended Lachlan's distant cousin, Jonathan Déaglán MacAlasdair, who they will address as Deaglan. Lachlan's brother, Nicholas MacAlasdair, also became friends, and Bismarck befriended Lachlan and Nicholas' Romanian mother, Valentina Otilia Boleslaus, and their Southerner father, Jonathan Lachlan MacAlasdair V whose father fought and died in the Civil War on the Confederate side.
First Year (1901-02) Edit
Bismarck began his first year at Lievremont on October 21, 1901, there are the four higher-class houses of Habsburg, Bourbon, Bonaparte, and Braganza, and four lower-class houses of Wimpffen, Saxe-Coburg and Gotha, Hanover, and Hesse. Bismarck was sorted into Braganza House, and now lived in the Braganza Tower. Bismarck, because of his higher-class status, was appointed to these subjects:
World History
Political Science
Geography
Warfare
Literature
Anthropology
In 1901, Bismarck became the member of the National Liberal Party of Romania. Bismarck joined the Romanian faction of political science class, learning about Romanian politics. and fell in love with Begonia Dobynin, and failed to win her over. Lievremont students are allowed to travel all around Western Europe, with professors, for Saint Nicholas Day. Traveled to the Netherlands and Belgium to celebrate Saint Nicholas Day, a Lievremont tradition. They were encountered by both Sinterklass and Zwarte Piet (two men dressed as Sinterklass and Zwarte Piet). Disgusted towards the Blackface makeup of the character, Bismarck left the show and returned to his hotel room. Bismarck encountered Jonathan Sarban Boleslaus V from Austria, and Bismarck blasted the Zwarte Piet character as being "promoting racial integration" and "being sympathetic" to black people. To Bismarck's disappointment, Boleslaus expressed his anti-racist views, and Bismarck suspected Boleslaus, and pretty accurately, to be Jewish, when Bismarck asked Boleslaus if he was Jewish, Boleslaus ignores the question and left the hotel room, starting a rift between Bismarck and Boleslaus. Boleslaus fears Bismarck could end up discovering his Jewish faith, and the Lievremont students returned to the French Alps. Bismarck was invited by Jonathan Valentin Briskman VI to spend winter break with his family in Waimes. Waimes has became one of Bismarck's favorite places, yet Bismarck never liked Briskman for his liberal views on civil rights for non-whites. Briskman told Bismarck he inherited his anti-racist views from his abolitionist father. Briskman lied to Bismarck about his Jewish background as well. By spring of 1902, Bismarck joined the Spartipaich games. He played his first Spartipaich game in March 1902 as Trojan Horseman and led his house to victory. Bismarck returned home along with other Lievremont students on June 1, 1902.
Second Year (1902-03) Edit
TBD
Third Year (1903-04) Edit
TBD
Fourth Year (1904-05) Edit
TBD
Fifth Year (1905-06) Edit
TBD
Sixth Year (1906-07) Edit
TBD
Post-Lievremont Education (1907-1909) Edit
TBD
Aristocratic Independence, and Travels to Germany Edit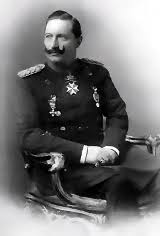 In Christmas 1901, Bismarck was able to meet Kaiser Wilhelm II of Germany with his mother and became a member of the Kaiser Wilhelm Society in 1911. In 1907, he fully completed his Lievremont term.
Bismarck admired Kaiser Wilhelm II and supported him against the allies in World War I. Bismarck had a pro-German sentiment since birth because of his family's ethnic heritage. When World War I began in 1914, Bismarck was more favorable to Germany.
Sexual Affairs, Racism, and Elitism Edit
In 1906, Bismarck had an affair with Ginevra Bakirtzis while still at Hogwarts, in 1907, a child was born, Salazar Bakirtzis. Refusing to care for the child, Bismarck left Ginevra to her own devices and abandoned her, the affair, and impregnation of Ginevra angered Bismarck's lifelong enemy, Spiridon Athan Bakirtzis, and threatened to kill him. Bismarck continued to have several affairs with fellow students, Jennifer "Jenny" Wyatt, Sabrina Wallace, Elisabeth McGonagall, and several more women. It is said Bismarck had affairs with some of his cousins as well. Bismarck began expressing racist attitudes and feelings against non-whites and expressing politically incorrect attitudes towards Jews, Muslims, Homosexuals, Indians (people from India), and Indigenous peoples globally. Bismarck was given an invitation to visit the Southern United States, but he refused the invitation because of his prejudice towards Southerners, and believed in German supremacy because his blood traces back to Germany.
Bismarck was an upper-class supremacist, looking down on people who were middle-class, working-class, and lower-class. Bismarck opposed economic equality and supported economic inequality. Bismarck's upper class blood supremacy, birth-right, and more have influenced to oppose helping the poor, helping the middle class, helping the working class because Bismarck opposed sharing his wealth, wealth he was born with.
Marriage with Elisabeth Molly McDonald Edit
Sometime in 1901, Bismarck's parents adopted a girl from Sweden (possibly) named Elizabeth (also spelled Elisabeth) Molly McDonald, as an infant. As Elizabeth was in her late teens, Bismarck started to have romantic feelings for his adopted sister, and Elizabeth admitted she had been attracted to Bismarck, thereby making their relationship incestuous although not related, it is possible that Bismarck and Elizabeth McDonald are distant cousins considering the fact that Elizabeth McDonald was probably a descendant of the extinct and disconnected McDonald family.
Bismarck would eventually marry Elisabeth McDonald finally in 1918 and had six children with her. Jonathan XVIII (b. 1920), Elisabeth (b. 1921), Gustavus (b. 1923), Dionysus (b. 1924), Alexandra (b. 1928), and Jennifer (b. 1930).
Elizabeth died in 1995 at the age of 95, in Bucherest, Romania, and today, Jonathan D. Bismarck XVII and Elisabeth are now buried together at Bismarck Manor.
Entrance into Chawosauria
Edit
In 1908, Bismarck began his immigration process from the Human World to the Chawosaurian World, under the guidance from Gustavus Baardsen, his Chawosaurian-born maternal grandfather. Bismarck's mother also helped with the process. Bismarck fell in love with his adoptive sister, Elisabeth Molly McDonald, at Hogwarts, and kept it a secret. He finished his final Hogwarts year in 1909, and there, he encountered Prime Minister-designate, Garfield Lucas Webster, on August 23, 1909, and asked him to run for the Chawopolis Palace, trying to recruit candidates for the 1909 legislative elections in Chawosauria. Bismarck entered the race without hesitation and ran from his Bucharest district. He began running against an incumbent Wolfgang Delano Boleslaw in the National Liberal Party primary.
Chawopolis Palace
Edit
In the 1909 legislative elections, a wave of right-wing populists from both Chawosaurian factions of the British Liberal Party and British Conservative Party took its toe. Bismarck joined part of the Chawosaurian faction of the U.K. Liberal Party, a member of the National Liberal Party of Romania. Running in the Bucharest District and challenged the incumbent, Wolfgang Boleslaw, for the nomination of the party, Bismarck ran a right-wing populist campaign, advocating on small government in favor of a corporatocracy, arguing that the government was too socialist and that businesses, not the govenrment, should take a leadership role in improving people's lives. Boleslaw ran a campaign aligned with Garfield Webster, a progressive taking over the Premiership by January 1, 1910, and Webster ran against Bismarck, and pretty effectively. Bismarck won the primary over Boleslaw with the unexpected endorsement of Jonathan MacCarthy and faced Nicolas Deleanu of the Conservative Party, and a tough challenge from Pete Brăescu of the Social Democratic Party. Bismarck won by an unexpected landslide.
First Term (1910-1919) Edit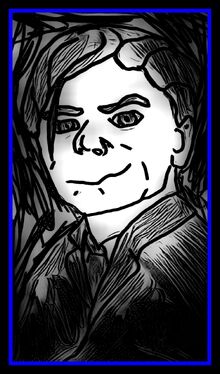 Bismarck took office on January 1, 1910, at Adare Manor, in Ireland. Bismarck was sworn in by his future boss, Emperor Santiago, and on February 1, 1910, the 1910-1919 government began governing. Bismarck was heavily despised by Seathan Sunflower and much of the Sunflower family over this death.
World War I broke out in 1914, and the government had to cancel the 1915 legislative elections and extended the 1910-1915 government session up to 1919, and an emergency extention pass 1919 if the war continues beyond 1919. Bismarck was one of those Chawosaurian politicians who volunteered to help his constituents who were injured or killed in the war zones of World War I, and his reputation recovered thanks to his WWI era deeds. After the war ended, Bismarck married Elisabeth Molly McDonald and ran for a second term in 1919, where he won by a landslide, running on an anti-government populist campaign and advocated that businesses should call the shots and labeled progressives and social democrats as elites.
Second Term (1920-1925) Edit
Bismarck took his second term on January 1, 1920, at Adare Manor, and had his first son twenty days later, named after him, Jonathan Dragan Bismarck XVIII, and a daughter a year later, Elisabeth Maria Bismarck, on January 3, 1921. Bismarck had more children, Gustavus, born in 1923, Dionysus, born in 1924, Alexandra, born in 1928, and Jennifer, born in 1930.
Bismarck had conflicts with many progressives, prominently Walerian I. Boleslaw, Prime Ministers Garfield Lucas Webster, and Theodore McClellan, his 17th cousin Jonathan Davgon Bismarck X, and James Dylan Oakes. Bismarck hated Webster, Oakes, and McClellan more. Bismarck and James Oakes once had a fistfight, James Oakes won.
Third Term (1926-1929) Edit
In the 1925 Chawosaurian legislative elections, McClellan blew up the Palace, leading the Liberals in the Palace to sweep the Palace by gaining 232 gains, winning 415 seats, a supermajority, and 84% of the popular vote. Going into the 1926-29 government, it was all good for the Liberals, the Liberal Prime Minister Theodore McClellan had a liberal Supreme Leader and a liberal supermajority, which meant they could bypass any resistance. McClellan enacted the same liberal welfare reform passed in Britain after 1906, but there were some resistance from Classical Liberals including Bismarck himself.
Theodore McClellan announced his retirement on November 4, 1929, McClellan stayed in the United States to support the Republican Party for the 1928 elections, which the Republicans did win single handily. Bismarck ran for reelection in 1929 for a fourth term and succeeded again.
Fourth Term (1930-1935) Edit
Bismarck met the new Prime Minister, Jonathan Davgon Bismarck X, a distant blood relative, a muggle, and a Progressive. Jonathan Davgon Bismarck X is nicknamed "Bull Moose" for his support for the Bull Moose Party during the 1912 U.S. presidential election. Bismarck and Bull Moose Bismarck had severe disagreements on politics. Bismarck fought with Bull Moose Bismarck manually on policy. Advocated for Tax Cuts, Deregulation, and increased Defense Spending. The Great Depression struck the world and so did Chawosauria.
In family life, Jonathan Bismarck disowned his youngest brother, Dionysus, for refusing to accept White Supremacy as "factual" in the family, and Dionysus was no longer welcome in the family again because of his anti-racist and socially progressive beliefs. Social Progressivism on race is taboo in the family.
Fifth Term (1936-1939) Edit
Bismarck began supporting Adolf Hitler and advocated for the persecution of Chawosauria Jews in Chawosauria. He modestly succeeded but his legislative orders were struck down by the courts. Bismarck attempted to bribe Bull Moose Bismarck but the Prime Minister was busy supporting President Roosevelt for his reelection in 1936. In 1938, Bull Moose Bismarck announced his retirement and was Bismarck nominated by Emperor Santiago to take his place.
Once Gustavus, Dionysus, and Alexandria began their Hogwarts years, they were sorted to Gryffindor house, which angered Bismarck that by the time they returned from their first year at Hogwarts, he disowned them and forced them to live on their own. Which scared Jennifer, Bismarck's youngest daughter.
Premiership
Edit
Nomination, Confirmation, and First Days in Office Edit
On September 1, 1939, Nazi Germany invaded Poland, and Prime Minister Jonathan Davgon Bismarck X was not prepared for the newly broken out World War II, so he announced his retirement. Emperor Santiago had to find a replacement for Bismarck. There were few suggested people, one of them is Jonathan Valentin Briskman VI, and another main person was Euro-President Jonathan Sarban Boleslaus V, and it was said James Dylan Oakes wanted the job. Jonathan Lachlan MacAlasdair VI wanted the job. Bismarck was also interested in the job, but Jonathan Davgon Bismarck X didn't want Bismarck in the position despite being 17th cousins. Jonathan Davgon Bismarck preferred Briskman instead, Santiago rejected Boleslaus because he was Jewish. Bismarck fought with his cousin for his endorsement but Davgon Bismarck refused. James Oakes announced he no longer wanted the job. Another person who said he wanted the job of Prime Minister so badly was Jonathan Déaglán MacAlasdair, but MacAlasdair was rejected by Emperor Santiago because he was a redhead, which cost him a dear of seats in the 1925 midterm elections to Prime Minister Theodore McClellan that night. Briskman advocated for civil rights for Black Chawosaurians, which made Emperor Santiago fearful of a backlash, causing him to pick Jonathan Dragan Bismarck XVII instead despite strong hesitation.
Bismarck was surprisingly nominated Prime Minister of the Empire of Chawosauria. Bismarck accepted the nomination and was easily confirmed by the Chawopolis Palace. World War II had already begun during Bull Moose Bismarck's premiership in 1939, and Bismarck took office on January 1, 1940, at Adare Manor, at 1:01 AM.
Bismarck began implementing conservative policies in the first days of his Premiership, passing anti-homosexual policies, policies against women's rights, policies against racial equality, and passed corporate tax cuts (only for himself and not for other rich people) and left rich people to pay progressive taxes installed by the progressive Prime Ministers before him, in fiscal budgets, he moved the taxes paid by rich people (except him) from being funded into government-sponsored projects and social welfare to his own personal pocket. Bismarck opposed environmental protection, labor laws, workers getting paid, and he supported child labor, he opposed the abolition of slavery over black people, opposed interracial marriage, opposed the idea of a nation for Jews, he criticized religious tolerance, gender equality, and he supported white supremacy, male supremacy, and antisemitism.
Bismarck advocated for the preservation of laws oppressing homosexual conduct, citing the bible for his opposition to the legalization of homosexuality, he opposed laws legalizing abortion, and signed an administrative order declaring Islam a heresy. Bismarck signed administrative orders declaring black people a "national security threat" against Chawosauria, showing his strong commitment to white supremacy, Bismarck hated black people his whole life, strongly believing they were "genetically inferior", and "mentally unstable". Bismarck's racism went even broader, signed declarations declaring Latinos, Asians, Arabs, Jews, anyone who isn't white, "genetically and mentally disabled", and passed more orders making it illegal for non-whites in White majority parts of Chawosauria from defending themselves from hate crimes, insults, and discrimination. Bismarck encouraged discrimination against blacks, saying it (in Bismarck's words) "makes these inbred pigs [black people] behave in white Christian societies".
First Term (1940-1949) Edit
World War II (1939-1945) Edit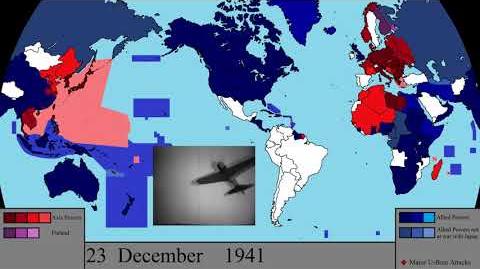 World War II had begun on September 1, 1939, following the Nazi-Soviet Invasion of Poland, Bismarck decided to stay at Adare Manor and work at his hotel room instead. Bismarck had always loved Ireland, and he decided to live in Adare Manor throughout his whole Premiership. He took a liking to Adare Manor and never wanted to leave the place until he has to when his Premiership ended.
Throughout the war, Bismarck, living at Adare Manor, barely done anything to protect Chawosaurians in Axis territories from the war. Millions of Chawosaurians living in Axis lands were killed, either by war or by the Nazis in Europe and the Japanese Imperialists in Asia and the Pacific.
Bismarck, in Ally nations, contributed to Industry jobs taking place in the United States, Canada, Australia, and New Zealand, and build similar jobs for both Chawosaurian blue-collar workers and white-collar workers alike.
Bismarck signed a living wage executive order in 1941. When the United States was invaded by the Japanese the same year, Bismarck encouraged the Chawosaurian community in the United States to support President Franklin D. Roosevelt, this move infuriated the Chawosaurian Administration in the United States but Chawosaurian s supported Bismarck's request, as they voted for Roosevelt in the 1944 elections and his Democratic Party in 1942, and 1944.
Controversial Support for Hitler Edit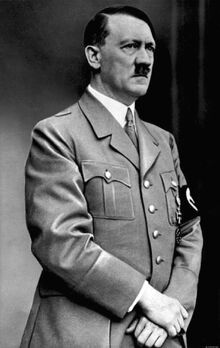 Bismarck was a supporter of Adolf Hitler throughout the whole war, Bismarck demanded to copy Hitler's pre-war work projects, experiments, and concentration camps for "scientific research". Bismarck had long hated Jewish people since his youth, and Bismarck personally wrote letters for his Nazi friends abroad and started an organization called Hitler's Army.
Hitler's Army purged political enemies, similar tactics from the Night of the Long Knives, where Hitler purged his own political enemies. Bismarck supported the fascist parties in his home country of Romania, the National Renaissance Front, the Romanian Youth Labour, and others while still supporting the National Liberal Party.
It is rumored that Bismarck killed an anti-Nazi critic with his wand. Bismarck has hidden the body until its discovery in 1993. Bismarck's daughter, Elisabeth, decided to move with her father in Adare Manor to prepare to marry Wolfgang Bakirtzis, a Greek-born scientist. Bismarck hated Bakirtzis but accepted the marriage, and have Bakirtzis his blessing as his father-in-law.
Wolfgang Bakirtzis - Elisabeth Bismarck Adare Wedding Edit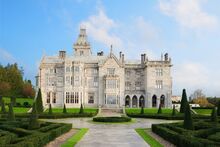 On February 14, 1942, Bismarck's daughter, Elisabeth, marries a Greek scientist and doctor, Wolfgang Bakirtzis, at Adare Manor. Bismarck expressed hatred for Bakirtzis for his family's Greek background.
Both the Bismarck and Bakirtzis families attended the wedding. The Greek Orthodox Church was welcomed to the wedding under the request from Bakirtzis. Bismarck asked his daughter "why marrying this man? He's a greek" Elisabeth defended her new husband saying he will take care of her better than he should have had in her childhood.
Bismarck was neglective towards his children, leaving their mother to do all the work, Bismarck was worried about his side of the family's Romanian blood "being impure" if his children marry outside their ethnicity as Romanians. Bismarck's son began dating a Scottish woman, Samantha Victoria MacKenzie, the daughter of James Lyons MacKenzie, a Scotsman that Bismarck hated in both his childhood years and Chawopolis Palace career.
After the wedding, Wolfgang Bakirtzis' elder brother, surprisingly, Spiridon Bakirtzis, walked to Bismarck and asked: "Why are you Bismarcks so lustful towards us?". Bismarck got offended by the question and walked out of the wedding.
Siege of Lièvremont Manor, Lièvremont Family Deaths, and Scandal Edit
The Lièvremonts were a French aristocratic family known for Lievremont Academy, a prominent Chawosaurian Boarding School attended by Garfield Lucas Webster and many others. Since taking office in 1940, Bismarck had domestic relations with the Lievremonts as part of their family business of running a boarding school. Bismarck had a bias towards the Lievremonts and since Bismarck hated them because of the fact that they are Catholics, Bismarck wanted them dead.
World War II had already been raging since 1939, a year before Bismarck took office, and then Bismarck planned the deaths of the Lievremonts since he first took office. Bismarck planned Lievremonts' deaths for three years, and then finally, in 1943, Bismarck ordered a meeting with Jonathan Sarban Boleslaus VI, an Austrian-born Nazi soldier and a member of the Bolesław family and a descendant of the Lievremonts. Boleslaus' great-grandmother, Audrey Maria Lievremont (1841-1936) was a Lievremont, which means Boleslaus was the great-great-grandson of the famous headmaster of Lievremont Academy (until his death in 1893), Barthélemy André-Marie Lièvremont (1790-1893).
Bismarck attempted to leverage Boleslaus to kill the Lievremonts because they're Catholics and rape their daughters afterward, but Boleslaus refused because of his blood-relation with the Lievremonts, then Bismarck blackmailed Boleslaus by threatening to reveal to the Nazis that Boleslaus' great-great-great-great-grandfather, Jehoiachin Abijah Zedekiah Boleslaus (1610-1705) was Jewish, this blackmail made Boleslaus insulted, but Boleslaus had a dark secret, Boleslaus, not only he has Jewish blood, he was also Jewish by religion. Boleslaus, fearing that Bismarck will tell Hitler of his Jewish-blooded ancestry, still refused anyway, and left Bismarck's office in fear of Bismarck.
Bismarck contacted the Nazis of the Lievremonts, telling them that they're Catholics, and told them where they're hiding, and also told the Nazis that one Nazi soldier, Jonathan Sarban Boleslaus VI, has Jewish-blood in him as well as religiously Jewish, and showed them hidden documents proving this. Afraid of incarceration, Boleslaus faked his death and escaped from the SS and moved back to Wolfsberg, Austria. On June 23, 1943, the Lievremonts' manor was stormed by the Nazis and the whole family was killed, and their daughters were raped and killed.
Bismarck kept the Lievremont massacre a secret until the D-Day Invasions, the Liberation of France, and the near fall of Hitler in 1944, Chawosaurian factions of the allies exposed the Lievremont siege, Bismarck's involvement and cover-up, and it was published in the Chawosaurian media, this causes of media firestorm, the Chawosaurian public was outraged, and Bismarck's approval ratings sharply plummeted as a result of the exposure.
On August 23, 1944, a special counsel investigation was established by Emperor Santiago to investigate Bismarck's criminal conspiracy in the Lievremont murders, the special prosecutor was Jonathan Déaglán MacAlasdair, a lifelong member of the Chawopolis Palace who has more experience in investigative and attorney matters than others, which it's why Santiago chose him as special prosecutor against Bismarck. Bismarck attempted to suppress the investigations with means necessary to oppress the investigations, with witness tempering with Boleslaus by threatening to reveal his Jewish heritage to the Chawosaurian public to crush public trust in the investigations if Boleslaus agrees to cooperate with the investigations. If Bismarck does reveal Boleslaus' Jewish faith and ethnicity, it would undermine public confidence in the investigations because of widespread Antisemitism in Chawosauria.
Boleslaus was joined by his family to fight Bismarck and defend the investigation, and the Boleslaws fought to get Bismarck impeached. The Boleslaws and Bismarck fought against each other for a year from September 1944 to October 31, 1945, on October 31, 1945, Bismarck surrendered and allowed Boleslaus to testify in front of the Chawopolis Palace, and gave a damning testimony that wrecked Bismarck's image, and threatened to throw the 1945 midterm elections over to the Communist Party. Boleslaus gave the Palace, with 700 Billion Chawosaurians listening via radio (TVs didn't exist back in 1945), of Bismarck's attempts to have Boleslaus to do the killings and raping of the Lievremonts. This was a short-lived victory for the Boleslaws, and they called for impeachment by the House of Commons, but the Palace refused to impeach Bismarck because they feared it would undermine popular faith in politics among Chawosaurians.
On November 4, 1945, Bismarck publicly apologized for the Lievremont murders to the Chawosaurian people. The MacAlasdair Report was released, revealed, unredacted, that Bismarck was involved in the Lievremont Murders by leading the Nazis to their hiding range, and attempted to cover it up with witness tampering, money laundering, and bribery (all illegal in Chawosauria). Bismarck's approval rating sharply plummeted and his chances to keep the Chawopolis Palace was under a thread thanks to the MacAlasdair Report.
End of World War II and the beginning of the Cold War Edit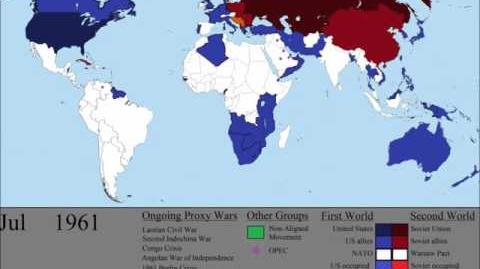 Germany went down in May of 1945, Japan went down in August to September of 1945, and then Italy went down two years before 1945, with the end of World War II, and both the United States and the Soviet Union emerged as the two big victors of the War in Europe and conquerors of Germany, and the United States conquering Japan. Bismarck was free to focus on a post-war Chawosauria, at least it's what he thought. Bismarck planned restore the 1945 legislative elections, which he did, but a move he would come to regret very soon. Bismarck faced a lot of heat and harsh criticism from Bull Moose Bismarck over his handling of the war. The United States and the Soviet Union, two drastically different countries, disagree on how to reign Europe, causing a divided Europe, and become more competitive over world domination. Bismarck's major "end-of-term curse" is indeed, the Cold War, although Bismarck was still living his early years of being Prime Minister. Following the bombings on Japan, Bismarck went to comfort Reina Hagiwara who was mourning the death of her father in the Nagasaki bombings, only to have an extramarital affair with Hagiwara, this affair was discovered by Elisabeth and she demanded a divorce, but Bismarck refused to divorce Elisabeth because of his Bible's stance on divorce, unable to convince Bismarck to go along with divorce, Elisabeth offered her husband a compromise while she demanded him to compromise as well, she suggested that she and Bismarck should separate to achieve what she wanted which it was leaving Bismarck in response to his affair while remaining married to enforce Bismarck's religious views, and Bismarck agreed, the married couple separated in 1946 and Elisabeth took full custody of Jennifer. In response to the 1945 U.K. general election, Bismarck freaked out over the Labour Party winning their first majority, Bismarck responded: "I am pissing my pants the thought of a Labour government". In Bismarck's diplomatic trip to Long Island, New York, Bismarck ordered the killing of Leonard Lloyd Lockwood as retribution for criticizing him, his daughter was present at the murder, Charlotte Andrea Lockwood, the mother of the soon-to-be-born Prime Minister Jonathan Dragan Boleslaus IX, Bismarck offered to spare Charlotte Lockwood if she agreed to stay silent of this murder but also in to stay silent in exchange for her life, she had to have sex with him at Adare Manor, something Charlotte reluctantly agreed. Bismarck fixed her a bath, with him in it, and had the affair. Charlotte was 15-years-old at the time, Bismarck was 55.
1945 midterm elections Edit
(see: Chawosaurian Legislative Elections of 1945)
In the 1945 midterm elections, on election day, December 31st of 1945, Jonathan D. Bismarck suffered an unexpecting defeat, a moment in his life that he never thought would come. This is actually the first defeat in Bismarck's life that he has ever fallen to. Bismarck's personality traits have been the ability to be cunning, to be resourceful, to be ambitious, and to be clever in order to manipulate things to go in Bismarck's favor, but for the first time in Bismarck's 55 years of walking the earth, his manipulative traits failed to sway the 1945 midterm elections in his exact direction, making Bismarck shellshocked on election night and the morning after. He lost key political allies, Seathan Sunflower, who wasn't his ally personally, and among other prominent allies.
Behind the scenes Edit
Bismarck was listening to the election results from the radio at Adare Manor, where he stayed up with his family, listening to the results. Bismarck got bored, sleepy, and decided to retire to bed, at 12:45 AM. At 11:01 AM, January 1, 1946, Bismarck was awakened from his slumber to bad news to forever stunk him mentally, the Communist Party won 261 seats, the British Liberal Party won 121 seats, and the British Conservatives won 103 seats, a total of 485 seats were called, and 115 seats were uncalled. Bismarck realized the Communist Party are ahead, and that even if the Liberals were to win all 115 uncalled seats, it would give them 236, but no majority in sight for any party and the Communist Party would still have 261 seats, making the painful calculation that the Communist Party has won the election, and the U.K. Liberal Party has lost its majority, even if the Conservatives (Tories) have won all 115 uncalled races, they would get 218, and the Communist Party would be the largest party. In the hours of the whole day, the Communist Party went on to win much of uncalled races, the Communists won 97 of the 115 uncalled races, the U.K. Liberals won 18 of the 115 uncalled races, and the Tories made no gains from the 115 uncalled races, by 10:31 PM, January 1, 1946, the results were finalized, the Communist Party, winning a near super-majority, with a total of 358 seats, two seats close to 360 seats, the magic number needed for a supermajority before 2017. The U.K. Liberal Party won 139 seats, losing a net 178 seats, and the Tories won 103 seats, losing a net 143 seats, the Communist Party gained a net 321 seats from both the Liberals and the Tories. Bismarck realized that he clearly lost his Capitalist majority to the Communist Party, Bismarck refused to concede to Timothy Max Roosevelt, who, although Bismarck still remains Prime Minister under the orders of Emperor Santiago, Timothy Max Roosevelt took over Bismarck's position as Speaker of the Chawopolis Palace.
Aftermath Edit
Bismarck, after realizing he lost in a landslide, spent the month reflecting, questioning, and doing soul searching over a "venomous stinging loss" of the Chawopolis Palace to the Communist Party. Bismarck grew depressed, he often took long walks through the woods and praying. It was clearly a life-changing journey for Bismarck, believing that the rise of Communism is real that is close to Chawosauria, and it got closer to him personally in the 1945 elections. Bismarck decided that he would no longer rely on his Slytherin traits to win over conflicts as he had in the past, and decided to distance himself from his Wizarding past, Bismarck never campaigned, which did played a factor of the Capitalists losing dominance that they've claimed for 45 years before Bismarck arrived as Prime Minister. John Gesaffelstein, a biographer for Bismarck, said that Bismarck felt betrayed by his manipulative traits, and no longer will he rely on them to win over deals. Bismarck was angry, frustrated, alone, and isolative over his 1945 electoral loss. In the mid-days of January in 1946, Bismarck slept more, yelled at people more, and blamed his son, Jonathan XVIII, more as he had in the past.
On February 1, 1946, the Communist Party prepares to govern, and Bismarck, although part of his duties as Prime Minister, refused to attend the ceremony of Governing Day. Bismarck stayed home at Adare Manor rather than at Chawopolis City at the Palace, presiding the ceremony. The ceremony was instead presided by Jonathan Sidney MacCarthy, the leader of the Chwosaurian members of the U.K. Conservative Party. Throughout the whole year of 1946, he constantly asked to be alone, he is seen standing, looking out windows, staying in the dark, day and night, and he blamed his daughter Jennifer Lynn Bismarck for his personal issues. Bismarck developed an anti-social behavior to the point he was clinically diagnosed with an anti-social personality disorder and distanced himself from people. Bismarck began to have a drinking problem and repeatedly gets drunk, asked his separated wife Elizabeth Molly McDonald to have Jennifer to live with her. He yells at his staffers and threatens Jennifer on the phone. Bismarck loved the outdoors so he took a sketchbook and went out to the woods. Bismarck started become suicidal, which was his usual feelings since he was a teenager, Bismarck had a habit of sketching pictures of himself hanging, burned at the stake, or simply dead. Bismarck liked writing letters of how he wanted to die so badly. Bismarck attempted suicide four times in his premiership, one in 1941, another in 1946, another in 1956, and another attempt in 1968.
The Capitalists lost to the Communist Party because Bismarck allowed the Capitalists to campaign independently without his assistance because he overestimated his instincts, and the Capitalists, foolishly left to their own devices by Bismarck, campaigned moronically, they foolishly defended President Franklin D. Roosevelt's criticism of Communism, their response and handling of those Capitalists who were aligned with the Nazi Party, and their failure to defend the Capitalist Government's neglection of Chawosaurians during World War II. Leading to the Communist Party swiping 321 seats from the Capitalists, enough seats to win a near super-majority.
Bismarck lost in one of the greatest smackdowns in Chawosaurian History, he held on to 43% of his caucus but lost 57% of his caucus. As of the 2017 legislative elections, the 1945 elections is the 3rd largest smackdown for a Prime Minister. In 2017, Jonathan Boleslaus held on to 27% of his caucus and lost 73% of his caucus, in 1905, Malcolm Wilson held on to 41% of his caucus but he lost 59% of his caucus. Now, in 1945, Bismarck held on to 43% of his caucus, and then he lost 57% of his caucus.
1946-1949 Government Edit
Leadership
Jonathan Dragan Bismarck XVII
Timothy Max Roosevelt
Prime Minister
Speaker of the Palace
Took Office
January 1, 1940
Took Office
January 1, 1946
Preceded by
Jonathan Davgon Bismarck X
Preceded by
Jonathan Dragan Bismarck XVII
Succeeded by
Leonid Ivan Bzovsky
Succeeded by
Leonid Ivan Bzovsky
Party
National Liberal Party
Party
Chawallian Communist Party
Bismarck unwillingly accepted his new life, battling a Communist Party-dominant Chawopolis Palace, witnessing the rise of the Soviet Union, and become terrified of a potential nuclear war between the two nations. Bismarck must abandon his wizarding past and focus on cold war politics.
Bismarck fought Timothy Max Roosevelt to the bone over the cold war and the elections of 1949 to 1975. Bismarck's administration was heavily understaffed because of the 1945 elections, and Bismarck continues to stay at Adare Manor. Bismarck left the pain of his own birth country, Romania, falling under Communist control in 1947, similar to how Garfield Lucas Webster felt the pain and anger over his birth country, the Russian Empire, falling under Bolshevik reign in the Russian Civil War. Bismarck's loss of Romania deeply angered him and made him even more isolated, depressed, and suicidal. Bismarck screamed at aides "These damn Communist slugs are taking away my childhood memories! Somebody shoot me dead!" Bismarck decided to stay at Adare Manor and avoid the Communist realm, on which his home country is now part of.
The Communist Party began legislating Communism, and since the Communists don't have a veto-proof majority, Bismarck used this as an advantage, Bismarck filibustered Communist legislation, and remained walking out of the Palace depressed, knowing he has no real political power. Elisabeth Bismarck accused her father Bismarck of being a "sore loser" and said he needed to stop being petty, Elisabeth told her father "Father: your days of royalty are over! You need to accept that nobody around you is inferior to you!" Bismarck responded back saying "I am superior by blood, these mudblood Communists stole my life!" citing the fall of Romania, his birth nation, to Communism has part of Communism taking his life away from him.
Bismarck decided to try to make himself feel better by making fun of James Lyons MacKenzie for losing his seat to a Communist in the 1945 midterm elections, saying "Can you believe that mudblood Ravenclaw MacKenzie lost his seat? Did you see his face?" But this didn't help, James later replied to Bismarck at a press conference that Bismarck wasn't able to keep his Capitalist majority and said "who's the loser now?" which agitated Bismarck in an angry way.
Opposition to the UN Partition Plan for Palestine, resistance to the Rebirth of Israel, and Military Conflicts with Chawosaurian Jews Edit
In 1947, the United Nations proposed and successfully passed the United Nations Partition Plan for Palestine (Resolution 181), meant to split up British Palestine into two separate states, one nation for the Jews who lived there, and another for Palestinian Arabs, the Jews in Palestine accepted the plan. On May 14, 1948, the Jewish community in British Palestine declared independence from the British Empire, Meanwhile in Chawosauria, Bismarck hears of the news from the radio of the UN plan for Palestine, Bismarck turned on the UN over this, Bismarck opposed the United Nations Partition Plan because Bismarck understood that it would mean "a nation for Jews", and also meant "another nation for Arab people", Bismarck also didn't like Arabs so much for white supremacist reasons, Bismarck was annoyed by European states decolonizing their Middle Eastern lands in favor of Arabic Nationalism, but Bismarck hated the Jews more than he hated Arabs.
The UN Plan was successfully implemented. Meanwhile, in Chawosauria, the majority of Chawosaurians strongly disapproved of Israel's rebirth, and had opposed the idea of "a separate sovereign state for Jews". The Prime Minister of Chawosauria, Jonathan Bismarck himself, an antisemite himself, strongly opposed Israel's rebirth, and he accused the Jews of stealing the holy land from Christians (who are white people) and had discouraged support for Israel within Chawosauria's borders.
Around 1948, Bismarck declared war on the Jewish community in Chawosauria, and the Second Chawo-Jewish War begun. He made the war officially declared in an annual new years day joint session of the Chawopolis Palace. He strongly declared Israel as "a stolen land from the White Christian people" and vowed to dedicate his antisemitic crusade against the Jews in Chawosauria.
Bismarck, with bipartisan support from both Communists and Capitalists, and with the Emperor's support, started cracking down on human rights for Chawosaurian Jews, which included their voting rights, civil rights, and representation in the media, cinema, and political and judicial matters. Bismarck was given unified, bipartisan approval, even approved by the Emperor, to oppress the Jewish faith, banned Israeli immigration, banned any source of travel to Israel, and criminalized Chawosaurian business and hospitality ties to Israel.
On the other hand, Bismarck, a racist against Arabs, strongly opposed the birth of another Arab state, thereby a strong opponent against Decolonization. Bismarck banned Arabs from immigrating to Chawosauria, and blocked hospitality and connections to the Middle East. For Bismarck, a nation for Palestinians meant yet another nation for Arabs, and also, Muslims existing in the Middle East.
Psychiatry Behavior Classification Proclamation 1948 Edit
On May 31, 1948, in fierce resistance to the rebirth of Israel, Bismarck proposed and enacted the Proclamation, C.P. no 77, a proclamation that re-classifies Judaism from a religion to a psychiatric disorder. The proclamation labeled Jews as "sexually disabled", and "dangerous for the safety and interests of children".
The proclamation also established segregation against Jewish Chawosaurians, this new segregation system was inspired by the Jim Crow system taking place in the United States, purely in the Southern United States. Bismarck was impressed with the Southern United States' oppression of African-Americans, Bismarck credited White Southern Democrats for enacting Jim Crow laws. Inspired by the segregation, Bismarck's C.P. No 77 establishes the national poll tax against Jewish voters, and biased literacy and comprehension tests, along with admiring the Dixiecratic Party in the 1948 U.S. Presidential Election in the United States.
Bismarck believed this conspiracy theory that Jewish people have too much power, controlling the International community, the United Nations, and many western governments. Bismarck feared "Jewish or Zionist control or influence of Chawosaurian politics", and Bismarck demanded to prevent this by making it harder for Jewish children to get an education and pursue a career, so Bismarck asked Chawosaurian Senator Samuel Dylan Brigstow to introduce a mandatory math test that only Jewish children are required to take before they start first grade or lower, the math test is meant to trick these Jewish children into failing in order to oppress them from going to school and pursue a career or at all get a job, so Bismarck ordered the math test to become a college math test, and that the test must be taken at school and not at home because of fears that their parents or legal guardians might help them, so the math test policy passed the Chawopolis Palace easily, a 581-19 vote margin, and just before the 1948-49 school year begins, all Jewish children took the test, and 0% of them passed the college math test, successfully marginalizing them from getting an education. Bismarck used the test results to convince the Palace and the Chawosaurian people that Jewish people are not intellectually stable enough to get an education, a job, or pursue a career nor they are stable enough to live independently of themselves. That was the origin of the Chawosaurian stereotype that Jewish people are intellectually disabled.
Renomination Fight and 1949 midterm elections Edit
In 1949, Bismarck's term was expiring, and Bismarck wanted to stay in power, Bismarck asked Emperor Santiago to renominate him, but Santiago said it wouldn't make a difference and said he would have to accept Timothy Max Roosevelt as the next Prime Minister. If Santiago does not nominate a Prime Minister or fails to get Bismarck re-elected by the Palace, then the Chawopolis Palace will intervene and do a roll call election to get a Prime Minister elected. If Santiago does nothing or does nominate Bismarck for a second term but confirmation fails, then the Communist Party-controlled Chawopolis Palace will elect Timothy Max Roosevelt as the next Prime Minister. Bismarck had a fight with Santiago to get him to renominate Bismarck, but Santiago refused, Bismarck begged and pleaded with Santiago even more and said to Santiago "You can't afford to lose a Prime Minister, Santiago!" Santiago replied "If I renominate you for a second term, you're gonna get voted down by the Communists and Speaker Timothy will have to succeed you as Prime Minister, I'm sorry", this made Bismarck angry and stormed out of Santiago's office in pure hatred for Santiago.
Santiago attempted to ask maybe if Garfield Lucas Webster II wanted the job as Prime Minister, but Bismarck knew Webster was a prominent liberal new deal democrat, so Bismarck, as a chief advisor to Santiago, warned the emperor that Webster was a socialist and he would be a puppet to Stalin. Former Prime Minister Garfield Lucas Webster supported the idea of appointing his son for the premiership, the same position he once held, but to everyone's surprise, even Santiago and Bismarck's surprise, Garfield Webster II rejected the offer, says he has a family to raise plus an incoming child. Eleanora McClellan also attempted to convince her husband to take the job but Garfield Jr told her that he'd rather be with her and the children more than getting engaged in politics.
Bismarck decided to use his corrupting personality to sway at least 57 Communists to re-elect him as Prime Minister if he convinces Santiago to re-nominate him, Bismarck negotiated with Timothy Max Roosevelt into convincing 57 Communists to re-elect him, Bismarck, benefiting from Jonathan Sidney MacCarthy's World War I draft dodge controversy, by convincing the Chawosaurian members of the U.K. Conservative Party to join his bipartisan coalition to both re-elect him as Prime Minister and band together to defeat the Communist Party in the 1949 midterm elections. Nicholas McClellan was skeptical that Bismarck would ever get re-elected by the Palace even if Santiago does re-nominate Bismarck, so Nicholas McClellan immediately turned on Bismarck and offered Timothy Max Roosevelt a compromise vote, which angers Bismarck and the two angerly confronted each other, they argued and ended up having a fist fight, which McClellan won, and Bismarck having to secure 58 votes due to the loss of McClellan. Bismarck hated McClellan since then. Bismarck finally convinced Santiago to renominate him for Prime Minister for a second term, the first Prime Minister appointed to a second term since Frederick William Schwartz in 1869, 80 years.
Bismarck, with the re-nomination in the bag, now has to struggle to get 58 votes required to win re-election as Prime Minister by the Palace ruled by a Communist Party majority, and Bismarck's chances of reelection seemed less than slim. If Bismarck loses reelection, then Speaker Timothy Max Roosevelt will take Bismarck's place as Prime Minister approved by the Palace on partisan lines. Bismarck gained a vote, Nicholas McClellan, reinstated his compromise vote for Timothy. Bismarck now needed 57 Communists. Nicholas reminded Bismarck that he's gonna have to use his manipulative characteristics to win 57 Communists, Bismarck replied to McClellan "The last time I used my instincts, I lost to the Communist Party four years ago" Bismarck was unsure about this plan McClellan had. Bismarck needed to be charming, cunning, and he must take control over the conservation. Samantha A. Montgomery joined in and trained Bismarck to negotiate in a soft voice if necessary, and former Prime Minister Garfield Lucas Webster, although badly aging, helped Bismarck how to be shrewd. The practiced for weeks, from August 23, - to October 1, 1949, which it's the first day of negotiating for reelection by the Palace with a strong Communist majority historically established in the 1945 midterm elections in Bismarck's painful defeat, and in Timothy Max Roosevelt's strong grasp. Timothy began to underestimate Bismarck's characteristics as a person, underestimating his cunning, ambitious negotiating skills to the Communist Party, forged a coalition between Liberals, Conservatives, and a bigger than needed number of Communists supporting Bismarck due to his negotiation skills influenced by his manipulative traits.
Bismarck used these traits to win over 365 votes, to Timothy's 235 votes. On the day of the roll call election in the Palace, Bismarck won 370 votes, and Timothy Max Roosevelt won 230 votes in the Palace, reaffirming Bismarck's place at Adare Manor. Emperor Santiago, realizing he underestimated Bismarck, declared Bismarck the Prime Minister via certification.
On election day, in the 1949 legislative elections, Bismarck's influence quickly faded when the Communist Party gained 60 seats from the Capitalist opposition, giving the Communists a 418-182 supermajority advantage. Although Bismarck's popular influence continues to shrink, he regains influence over the Palace that he lost in the 1945 elections, a major victory for Bismarck.
Second Term (1950-1959) Edit
(see: Prime Ministerial Second Term)
Jonathan Dragan Bismarck XVII has achieved the unthinkable: a prime ministerial second term. The first prime minister since his 17th cousin,
Frederick William Schwartz
, to achieve a second term. A major accomplishment of the Jonathan Dragan Bismarck XVII premiership.
Second Communist Seige in 1949 Edit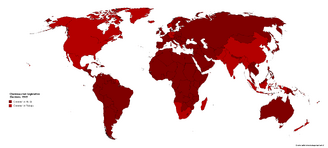 Despite Bismarck winning a huge victory in his reelection fight with the Communist Party-controlled Chawopolis Palace and regained his legislative influence over the Palace that fell in 1945, the Communist Party increased their majority by 60 seats, gaining a supermajority, which means Bismarck lost his ability to filibuster Communist legislation, and his popular influence continues to decrease.
Bismarck lost the election in another landslide, losing both the palace (and seats) and the popular vote.
Crackdown on Human Rights for Chawosaurian Jews Edit
"Bismarck is willing to sacrifice legislative ethics, break political taboos, and disregard constitutional orders to destroy or savagely marginalize the Chawosaurian Jewish community into a system that institutionally (and permanently) keeps them into severe poverty."
—Description of Bismarck's anti-Jewish crusade.
By winning a second term, he gained political powers only a post-first-term incumbent prime minister can possess, and these second term powers included the ability to bypass civil rights laws, constitutional or legislative, to crack down these rights without the need for a legislative repeal of these civil rights and civil liberties laws. When Bismarck was sworn into a second term on January 1, 1950, Chawosaurian Jews, angered by the surprise legislative reelection of Bismarck in 1949, protested Bismarck, chanting "Do Not Oppress Us" or "Bismarck Please! Do Not Oppress Us". Annoyed by the Jewish protests, Bismarck, despite the Jewish protesters had a permit to protest, ordered the national guard to silence the Jewish protesters with militant violence, and riots began to spark all across Chawosauria between Jewish protesters and the Chawosaurian National Guard. Bismarck also ordered that Jewish protesters are to be removed from public places that were gonna be used as protest sites despite the fact that governments of Chawosauria have already issued permits for the Jewish protesters, there was always resistance that always led to severe riots.
Bismarck went more further to silence Jewish resistance to him, he cracked down on constitutional rights by changing the constitution without legislative approval, which is part of his second term powers. Bismarck made it illegal for Jews to protest at all, in an attempt to silence Jews from speaking out against his anti-Jewish domestic policies and anti-Israeli foreign policy. Bismarck banned Jews from running for office, using The Protocols Of The Elders of Zion novel as a source of reason. Critics believed Bismarck has become a dictator, a tyrant who uses his second term powers to oppress others. Bismarck established harshly biased prison sentences only for Jews who dare to criticize his anti-Jewish policies.
Bismarck enacted a program called Jewology, which basically indoctrinates Chawosaurian children to believe in antisemitic canards, and over the years following its implementation in 1951, it worsened antisemitism in Chawosauria. Bismarck passed a law that stated Jews are to wear the Yellow Badge for society to identify their Jewish identity.
Rise of Communist Nations Edit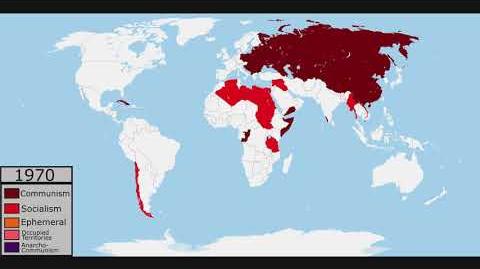 Since World War II, the strength of Communism consolidated at the hands of Joseph Stalin. Bismarck's 1945 massacre continues to haunt him as Socialism rises to its peak even after his second term. Bismarck's second term was dominated by cold war politics and Communism.
Bismarck had been supporting McCarthyism in the United States, Bismarck struggled with Timothy Max Roosevelt on blocking Communist legislation. Bismarck's attempts to dodge Communist legislation always seems to fail, his legislative influence that regained in his successful re-nomination and reelection struggle began to decline.
As Romania falls to Communism in 1947, Bismarck's political party, the National Liberal Party, dissolved, and this forces Bismarck to become an Independent. In 1950, he re-registered as a member of his own party, the Coalition Party, and he led his party to lose 60 seats in 1949.
Korean War Edit
The Korean War began in 1950 with North Korea invaded South Korea. The United Nations joined in favor of South Korea, while China supported North Korea.
Bismarck watched the Korean War closely, Bismarck asked Emperor Santiago permission to send Chawosaurian Aurors to restrain Chawosaurians in Korea from supporting North Korea, which Santiago approved.
Chawosaurian Aurors enforced Chawosaurian law in Korea but retreated when the Korean War ends which resulted in the continuing of the Korean Conflict.
Personal Tragedy Edit
On March 14, 1953, Bismarck received news that his mother died from a letter written to him from his mother, the letter contains motherly love for Bismarck that reads:
"My love, God's precious gift of a son. I beg you farewell as I time is up. I feel deep shame to leave you my bear, and I shall be with you as your guardian angel, even though you may not see me, I can see you as the precious special gift from God in heaven"
—Charlotte Ellie Baardsen, March 13, 1953
Bismarck was so devastated over his mother's passing and his depressive state escalated. He put the letter in his special chest of memories to remember his mother, and attended her funeral. Bismarck spent time with his family in Romania for the whole mourning process until April 13, 1953. He returned to Adare Manor with a black armband.
Death and Funeral of Garfield Webster Edit
On December 25, 1955, former Chawosaurian Prime Minister Garfield Lucas Webster passed away of a deadly form of brain cancer. Bismarck learned this news from Webster's daughter-in-law, Eleanora McClellan, from a phone conversion between her and Bismarck, but Bismarck hated Webster, and in response to Webster's passing he just learned from a phone conversion he was now having with Webster's daughter-in-law, Bismarck, for narcissistic pleasure, added more grief to Eleanora by screaming "Piss off you bitch!" at Eleanora and loudly mocked Webster with Eleanora listening, directly intended by Bismarck. Bismarck slammed the phone and said he would not attend Webster's private funeral. The Chawosaurian Press reported on this controversial phone call and Bismarck was defiant to apologize to the Webster-McClellan family. Bismarck screamed at the press yelling "I never liked Webster anyway, he was a fool!" purposely trying to add more grief to the already grieving Webster-McClellan family, revealing Bismarck's narcissistic personality. Bismarck was unsympathetic to the Websters most of all, Bismarck, throughout the whole funeral process of Garfield Webster, even though it was private, Bismarck bullied the Websters to make them grief even more, by sending them death threats, bomb threats (can be similar to a death threat), and called Garfield Webster insulting names, personal or racially, even though Webster was a white man just like Bismarck, Bismarck's despise for Webster was motivated in part because of Webster's advocacy for desegregation against African-s in the United States. Bismarck was a racist, proudly insulting black and other brown folks for their skin color, even to his death, he wrote in his final notes before dying about he views black people negatively.
Theodore McClellan, Webster's lifelong best friend, grieved more than the entire family, and Samantha Wellington, McClellan's wife, began to avenge the Webster-McClellan family by agitating Bismarck publicly, insulting Bismarck personally by reminding him how he lost the 1945 midterm elections by a monstrous margin, these insults effectively infuriated Bismarck, Bismarck attempted to bully Wellington back by insulting her husband and their children, but Wellington continued to mock Bismarck over his 1945 electoral defeat, an election that still haunted Bismarck even to his death, and Wellington exploited this as a revenge attack against Bismarck for hurting her family. Bismarck got increasingly frustrated and began to hate Wellington more. Wellington reminded Bismarck about the 321 seats lost to the Communists, increasingly bothering Bismarck. Wellington showed up at a Christmas party uninvited to humiliate Bismarck, and once Wellington and Bismarck finally met face to face, Wellington interrupted the whole party by reminding people about Bismarck's loss in the 1945 midterm elections, talking about the results whole, from the popular vote to the seat breakdown, which increasingly angered Bismarck, saying the numbers, and the mathematics of the 1945 elections right in Bismarck's face. Bismarck was getting obviously furious, he began to breath hard and loud, his face turned red, and he looked possessed. Wellington went too far with Bismarck by calling Bismarck "Bismorck", giving birth to a new slur, the slur was so clever it was popularized by people who hated the Bismarck family. A moment after Wellington called Bismarck "Bismorck" in his face, Bismarck, so purely red, walked out of the party, "pissed and embarrassed" described by people at the party. Bismarck lost the 1955 elections as a result of this embarrassment.
1955 midterm elections Edit
The Communist Party crushed Bismarck for the third time in 1955, taking a modest 17 seats from Bismarck, still has enough votes to fight for a third term, but in a tougher position. Bismarck was devastated as his popular influence continues to shrink. Bismarck requires 301 seats to return to the Speakership but drastically fell short.
Sputnik-1 Edit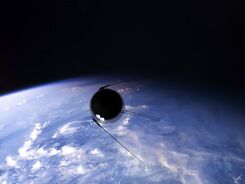 In 1957, the Soviet Union launched a satellite known as Sputnik-1. Bismarck was fearful that the Soviet Union has gained more power and influence, which it did, Sputnik-1 was the beginning of a new political, military, and other scientific development of technology. Former Chawosaurian Prime Minister Theodore McClellan just passed away on October 26, 1957, and Bismarck had no intention of attending McClellan's funeral on November 3, 1957, due to Sputnik-1. Bismarck offered the McClellan family his sympathy, although he never liked McClellan or his family at all. Bismarck invited McClellan's granddaughter, Theodosia McClellan, to stay at Adare Manor as long as she wanted.
Death and Funeral of Theodore McClellan Edit
Former Prime Minister of Chawosauria Theodore Alois McClellan passed away on October 26, 1957, in his home at Alaska, at the age of 97. Bismarck was focused on Sputnik-1, when he was sitting in his desk, reading briefings on the Soviet satellite, Bismarck's phone ranged and it was Samantha Wellington, Theodore McClellan's wife, the woman Bismarck hated. Wellington informed Bismarck that McClellan has passed away, and Bismarck moved the phone from his face to prevent Wellington from hearing him laugh at McClellan's death, pulled himself together and told Wellington that he offered her his "deepest sympathy" to her and her family. Bismarck hung up the phone and called Wellington a "bitch" and said he doesn't "give a damn" about Wellington, her children, or her family and in-laws, even during times of family grief, including the loss of Theodore McClellan. Bismarck used Sputnik-1 as a pass to avoid going to McClellan's funeral because Bismarck loathed McClellan. Bismarck invited the grieving granddaughter Theodosia McClellan to stay at Adare Manor with him, only to find out that Bismarck wanted her to stay with him because he wanted to have sexual intercourse with the poor 25-year-old herself. Theodosia discovered Bismarck's perverted intentions when Bismarck offered her a bath, -with him in the tub, Theodosia realized that it's a reference for sex, and left the bathroom, Bismarck never touched her afterward and Theodosia was relieved of that when she returned home from Ireland to her mother in Massachusetts.
Bismarck never insulted Wellington on the day she called to inform Bismarck of her husband's death because Bismarck feared Wellington since she insulted Bismarck at the Christmas Party in 1956.
Renomination Fight and 1959 midterm elections Edit
The elections of 1949 and 1955 put Bismarck in an even challenging position, now Bismarck needed 136 votes favorable to Bismarck for reelection, but first, he needed a nomination from Emperor Santiago. Bismarck asked Santiago for a third nomination, which Santiago denied at first, but compromised after Bismarck made a deal with Santiago. Santiago nominated Bismarck for a third term on March 23, 1959, and behind the scenes, Bismarck insulted Santiago's intellect. Bismarck prepared for negotiations by July 1, 1959, and while the 1959 election seasons go on, Bismarck barely campaigned, which would backfire as it had in 1945.
Bismarck asked Garfield Lucas Webster II, the son of Prime Minister Garfield Lucas Webster, but came out openly against his reelection in the Palace, Bismarck then asked Nicholas McClellan for help, but McClellan refused, both refusals from Nicholas and Garfield II over anger towards Bismarck for looking down on their family when Garfield Webster and Theodore McClellan died two years apart. Bismarck asked for help from Samantha A. Montgomery, but she declined, and then Jonathan Lothian MacCarthy, but he declined over an ideological disagreement, MacCarthy was a liberal, and Bismarck was a conservative. The centrist MacCarthy criticized the right-wing Bismarck over "his weakness to appeal to left-wingers and right-wingers".
Bismarck alienated his centrist and left-wing supporters in the Palace by showing favoritism towards his right-leaning supporters, which put Bismarck at risk of suffering from defections from his Capitalist coalition. Bismarck struggled to win over Jonathan Lothian MacCarthy and Samantha A. Montgomery. Nicholas McClellan fully affirmed he would also oppose Bismarck. Three Capitalists defected from Bismarck, now needs 139 votes to win reelection in the Palace.
Bismarck began negotiating with 136 Communists and 3 Capitalists. Bismarck used his charm as negotiation tactics and struggled worse than he did in 1949. Bismarck collapsed in several negotiations and his political influence deteriorate. A harmful single that Bismarck might have lost. Timothy Max Roosevelt was in a smoother position than he was in 1949, when he suffered mass defections from the Communist Party, a main tributing factor of his failure to beat Bismarck in the 1949 Chawopolis Palace election. Bismarck's deteriorating popularity and influence, political and popular, threatened to affect Bismarck's 1959 reelection bid for a third term as Prime Minister. Bismarck won 10 Communists over Timothy, but 129 Communists remain for Timothy, and 3 Capitalists remain determined to cast write-in ballots. Samantha A. Montgomery's write-in ballot was for deceased President Franklin Delano Roosevelt, Nicholas McClellan's write-in ballot was for British naturalist and father of the Theory of Evolution Charles Darwin, and Jonathan Lothian MacCarthy's write-in ballot was for deceased Canadian Prime Minister William Lyons Mackenzie King.
Bismarck increasingly appeared weak in the eyes of both the Chawosaurian public and the Palace, Bismarck's renomination was being debated by Emperor Santiago, Santiago wondered should he reinstate Bismarck's renomination and replace him with someone else, the proponents of replacing Bismarck suggested various people, including Jonathan Lothian MacCarthy, Samantha A. Montgomery, or Nicholas McClellan, while other proponents of replacing Bismarck suggested a compromise nomination for Timothy Max Roosevelt, and the opponents of replacement wanted Bismarck's renomination in tacted. Santiago struggled to decide to withdraw the renomination and either nominate somebody else or do a compromise nomination for the Communist leader, or keep Bismarck's renomination in Bismarck's hands. One of the supporters of replacing Bismarck. Jonathan Sidney MacCarthy, suggested he take Bismarck's place, but he was rejected by Santiago.
Bismarck's difficulty decreased when he won 50 up to 69 Communists in two weeks. On October 3, 1959, Bismarck's luck grew when Santiago finally decided to give Bismarck the third nomination on October 4, 1959, and won 103 Communists. Bismarck's hatred for Nicholas McClellan grew when McClellan continued to deny Bismarck a 104th vote. McClellan wrote in his write-in registry for Charles Darwin. McClellan wrote Bismarck a note that says "piss off!" and stood by his write-in vote. Bismarck had another conflict with Samantha A. Montgomery, who just wrote in her write-in registry for U.S. President Franklin Delano Roosevelt, and Jonathan Lothian MacCarthy wrote in his write-in registry for Canadian Prime Minister William Lyons Mackenzie King. Bismarck needed to target just Communist politicians rather then winning back McClellan, Montgomery, and MacCarthy. On October 31, 1959, Bismarck was reelected in a 301-296 margin, with three politicians excluded from this margin due to their write-in votes. Bismarck took a third term, but was more difficult and close. Bismarck's next apparent reelection fight in 1969 was made more difficult in the 1959 and 1965 elections. On December 31, 1959, to January 3, 1960, the Communist Party increased their majority once again for the third time in a role by 66 seats, from a margin of 435 Communists to 501 Communists, and from 165 Capitalists to 99 Capitalists.
Third Term (1960-1969) Edit
Bismarck's third term began on January 1, 1960. Bismarck met with Gallagher, Elisabeth's husband, and his grandson, Jonathan Deaglan Bismarck, in 1961. On June 30, 1961, Gallagher begged Bismarck to protect the Chawosaurian Christian Community from the Communists, but Bismarck demanded something in return if he were to fulfill Gallagher's demands. The issue of Bismarck's third term was the Vietnam War.
1960s Policies on Chawosaurian Jews Edit
Bismarck's hostile outreach against Jewish people continued up to 1960. Bismarck enacted biased voter ID laws to make it harder for Jewish voters to vote. Bismarck raised the voting age biasedly against Jews, stating they have to be 91 years of age to vote. Bismarck cracked down on funds for Jewish Chawosaurians expecting government benefits, and required business owners to prohibit employees from interacting with Jews, prohibited business owners, and bosses from hiring Jewish people, and demanded they fire an employee who is either discovered or rumored to be Jewish. Chawosaurian hospitality companies, Hotel Honolulu, Australian Landscapes, and more hotel companies were instructed by Bismarck via regulation and business instruction to discriminate Jewish consumers. Places in Chawosauria where Bismarck could not order businesses to discriminate Jews, Bismarck passed an "employee tax", which it's a tax for working, but in this case, a tax on Jewish workers for working, sometimes business leaders and bosses were taxed for having Jewish employees as a trick to make them fire them to save money. Bismarck segregated the military, ordered those who were discovered to be Jewish to face a dishonorary discharge from the military.
Rise of the Chawosaurian Left Edit
Bismarck struggled to deal with the rise of the Chawosaurian Left and the weakening of the Chawosaurian Right. Right-wingers deeply fear the loss of power, especially in the 1965 midterm elections. It was the Vietnam War that offered left-wingers in Chawosauria a new balance of power. Warning signs of an incoming gay rights movement were underway and it began to terrify Bismarck, the Lavender Scare in the United States and the State of Illinois' decriminalization of homosexual conduct were enough to spook Bismarck by the spine and make him extremely fearful of a potential homosexual revolution. In Chawosauria, there was no way to silence homosexuality, Bismarck was aware of homosexuals in the Chawopolis Palace, elected officials and federal employees. Bismarck was extremely discouraging against abortion, pornography, and sex education.
Cuban Missle Crisis and the Bay of Pigs Edit
The United States attempted to invade Cuba, but the mission failed. This barely affected President Kennedy in the 1962 U.S. midterm elections. Bismarck never admired the United States, in fact, his attitude towards the United States and s, in general, were always hostile in his youth, but modestly improved but continues to be disappointed in the United States. Bismarck discouraged his children to immigrate to the United States. Bismarck rarely supported the United States and mostly discourages the emerging superpower itself. Bismarck once wished the main opponent of the USSR was Britain, Canada, Australia, or even Brazil. Bismarck blamed the United States for the fall of Romania to Communism in the late 1940s and continued to do so up to his death in 2013.
In the Cuban Missile Crisis, Bismarck's disappointment towards the United States grew when Kennedy done a compromise with the Soviet Union, which angered Bismarck. Both Kennedy and Khrushchev lost their positions of power as a result of the US-USSR Compromise.
Tsar Bomba Edit
The Bomb code-named Tsar Bomba was a Soviet bomb tested in Russia (the Soviet Union then) in 1961, thus deeply concerning Bismarck and feared this would make the Soviet Union even stronger and criticized the United States for "not working hard enough to dock the Soviets". Bismarck distrusted President Kennedy, fearing Kennedy could be soft on the Soviets.
Bismarck focused on Tsar Bomba so much that he ignored the news that former Chawosaurian Prime Minister Malcolm Lyons MacKenzie Wilson in 1965.
Bismarck's Criticism of Black People Edit
Bismarck was no supporter for the Civil Rights movement in the United States, nor a supporter for the anti-Apartheid movement in South Africa.
Bismarck expressed skepticism and discouraged black and brown people and supported discrimination against them. Bismarck rejected civil rights laws strengthening the rights of non-white people and feared their demand for civil rights would inspire women and homosexuals to start demanding the same rights, a prediction that did came true.
In 1962, in the United States, the state of Illinois decriminalized homosexual conduct, the first state to do so, which Bismarck blamed on the civil rights movement.
1965 midterm elections Edit
(see: Chawosaurian Legislative Elections of 1965)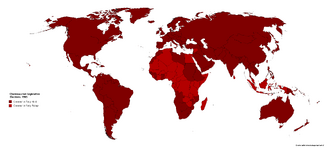 In the 1965 midterm elections, Bismarck suffered the worst electoral massacre. Bismarck's 1965 defeat was worse than 1945. Bismarck failed to win a single vote in both the popular vote and failed to win a single seat in the Chawopolis Palace.
Bismarck was put in risk of getting massacred in the Chawopolis Palace for Timothy to take his place as Prime Minister.
Backlash over the U.S.'s Vietnam War Involvement Edit
In 1965, U.S. President Lyndon B. Johnson ordered U.S. Troops to get involved in the Vietnam War. Bismarck, a Conservative, supported the Vietnam War and shamed liberals for criticizing it.
Bismarck's support for the war was one of those factors that led to Bismarck's oblivious defeat in the 1965 midterm elections. The Vietnam War became a central issue of the 1968 election in the United States. Bismarck expressed concern over the risk of Vietnamization. Bismarck said if the United States leaves the war, it would "show 's weakness".
Renomination Fight and 1969 midterm elections Edit
Bismarck's fourth nomination and reelection fight were made tougher thanks to the 1965 elections. Many people who supported Bismarck feared deeply that the elections of '59 and '65 foreshadowed Bismarck's downfall to a Prime Minister Timothy Max Roosevelt. Bismarck feared he could lose this time and for the first time in his life, he returned to Romania to negotiate with 301 Communists required to win reelection.
Bismarck asked Emperor Santiago to give him a fourth nomination, but Santiago, because of the Capitalists' oblivious defeat in the 1965 elections, rejected the request and offered Timothy Max Roosevelt a compromise nomination. On March 31, 1969, Bismarck fought to the nail to get the renomination and the 301 Communists required to win reelection in case Bismarck does get the nomination. The political climate was obliviously difficult for Bismarck, the Communists unanimous control over the Chawopolis Palace despite three Capitalist superdelegates, Samantha A. Montgomery, Jonathan Lothian MacCarthy, and Nicholas McClellan, all of whom disliked Bismarck. Bismarck increasingly appeared weak, Bismarck became desperate to stay in power, although he never had real power.
Bismarck's growing frustration escalates when Santiago denied Bismarck a renomination again on June 8, 1969, and Bismarck's failure to win renomination and reelection was made even harder by the Stonewall Riots in 1969, Bismarck receiving much of the blame for the Homosexual resistance in these riots. Bismarck and Santiago had an intense argument Bismarck keeps telling the press that he does not approve of the Stonewall riots and the newly sparked LGBT rights movement. Bismarck was afraid that some of his federal employees could be homosexual themselves and started a purge against them, which backfired badly.
Bismarck was surrounded by a wall of defeat, begging Santiago to renominate him, and begging 301 Communists to reelect them if he were to get renominated. Both people rejected his requests. Bismarck's pressure grew intensely as he was fighting for his political life for a fourth term. Santiago continues to refuse requests renominating Bismarck for a fourth term, and Bismarck's fight for a renomination becomes ugly in a few weeks. Bismarck's feuds with Santiago went from ugly to personal, and Bismarck pressured him to give him the renomination. Bismarck threatened to reveal Santiago's extramarital affairs to the public if Santiago refuses to renominate him. On September 25, 1969, Santiago compromised and gave Bismarck the fourth nomination to keep his affairs with prostitutes a secret. Bismarck used his nomination to leverage 301 targeted Communists. Three superdelegates, Samantha A. Montgomery, Jonathan Lothian MacCarthy, and Nicholas McClellan, all Capitalists on the liberal side, rejected Bismarck because of Bismarck's conservative attitudes. Bismarck attempted to pressure the three progressive superdelegates but was unsuccessful. Nicholas McClellan announced his write-in vote deceased U.S. President John F. Kennedy, Jonathan Lothian MacCarthy followed McClellan by announcing his write-in support for Liberal Prime Minister of Canada at the time, Pierre Trudeau, the father of Canada's incumbent Prime Minister as of 2019, Justin Trudeau. Samantha A. Montgomery announced her write-in vote for Dr. Martin Luther King, Jr.
Bismarck offered to negotiate with the Communist Majority Caucus' leader, Timothy Max Roosevelt, on ordering his party to re-elect him, but Timothy was tough to negotiate with. On October 3, 1969, Bismarck wrote Timothy a letter requesting a summit at Poiana Brasov, Romania, Timothy accepted the request. On October 10, 1969, Bismarck and Timothy met at Poiana Brasov, and the Poiana Brasov Negotiations began, but not how Bismarck planned, Bismarck and Timothy ended up spending the whole night of the first day of negotiations, talking it out, Bismarck was getting tired, but Timothy never appeared tired. Bismarck attempting to get Timothy to compromise in favor of him was increasingly appearing pointless, Timothy wanted something in return, Bismarck hesitated but accepted Timothy's demand, Timothy demanded to be allowed by Prime Minister Bismarck to subjugate Chawosauria's Christian community in exchange for a fourth term, Bismarck finally accepted the deal, leading to the Compromise of 1969.
On October 31, 1969, Timothy Max Roosevelt, as speaker of the palace, elected Bismarck for a fourth term despite Bismarck being defeated in his reelection vote in the Palace by a unanimous vote by the ruling Communist caucus, and Bismarck stripped Chawosaurian Christians of their protection from subjugation by the Communist Party-controlled Chawopolis Palace.
In the elections in 1969 on December 31st, the Communist Party retained their unanimity in the Palace.
Fourth Term (1970-1979) Edit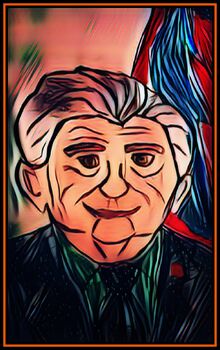 Due to Bismarck's 1969 compromise to allow the Communists to subjugate Chawosaurian Christians in exchange for political power only for himself, Bismarck was viewed by Christians as "compromise-minded" and "a traitor". On January 1, 1970, Bismarck was sworn in at Adare Manor and enjoyed his time there.
1970s Policies on Chawosaurian Jews Edit
Starting in 1971, Bismarck ordered administrative divisions of Chawosauria to pass laws requiring all courthouses to deny marriage licenses to Jewish couples regardless of their sexual orientation. Starting in 1973, Chawosauria has a nationwide ban on Jewish marriage.
Blackmailing of Jewish politicians and their families Edit
Future Prime Minister Jonathan Dragan Boleslaus IX was blackmailed. Boleslaus was threatened with exposure of his Jewish blood if he refuses to do Bismarck's bidding. Bismarck operated as a mob boss to the politicians he targeted, and he created a "target list" of politicians he blackmailed. Bismarck blackmailed a Jewish girl not to accuse him of child sexual abusing her or he will expose her and her family (her father was a politician) of their Jewish blood.
End of Involvement in the Vietnam War Edit
The United States withdrew from the Vietnam War in 1973, which led to the fall of South Vietnam in 1975 and the Communist overtook the whole Vietnamese nation.
1975 elections Edit
Emperor Santiago was getting old, 105-years-old, and a federal election was needed to replace Santiago. Santiago the election to be held during the 1975 midterm election, and Bismarck declined to run for the monarchy, a move he would regret by the end of the election. Victoria Belinsky announced her candidacy for the monarchy, and Timothy Max Roosevelt announced his candidacy for the monarchy, and so did George Windsor. The campaign was brutal, Bismarck attempted to campaign for a Capitalist government but was unsuccessful in connecting with voters. Bismarck endorsed Belinsky for Supreme Leader, although Belinsky attempted to distance herself from Bismarck. George Windsor ran for both the monarchy and the speakership but was unsuccessful. On election day, Bismarck was defeated obliviously again, but Windsor gained 263 seats.
Timothy Max Roosevelt was elected Supreme Leader and took office on January 1, 1976, Santiago left office sick and old, and George Windsor was elected leader of the Democratic Socialist Coalition, Bismarck hoped to benefit from this new Socialist government. Timothy's victory in the monarchy effectively stripped Bismarck of his veto power, now, with a Communist Supreme Leader, and a Communist majority in the Palace, with Bismarck being the only Capitalist incumbent until 1979, Bismarck's vetoes will be overturned by Timothy signing the pieces of legislation into law.
The Leader of the Opposition (1976-1979) Edit
Since Bismarck was Prime Minister, the Capitalists elected Bismarck as Leader of the Opposition. Bismarck served as Opposition leader, but was disliked by George Windsor and his coalition, Bismarck made some compromises in favor of the Social Democrats to earn their votes in his fifth reelection bid, Bismarck started endorsing social democratic ideas including Universal Healthcare, Universal Education, and Workers' Compensation. This worked for some members. It helped Bismarck with his approval marginally rising but not enough to get him over the 50% threshold. Bismarck's compromises angered his core right-wing base, and Bismarck pandered to them in response to their anger by supporting the Buggery Act of 1976, a failed bill that would've made homosexuality illegal in Chawosauria. Bismarck campaigned for the bill and accused the two coalitions of obstruction. Timothy Max Roosevelt and his Communist Party oppressed the bill from even being brought to a vote in the Palace. The Communist Party leadership made the schedule of the bill easy for them to suppress, the party will vote on legislation as scheduled, but left the Anti-Gay bill at the bottom of the schedule purposely after voting time. Social Conservatives protested the schedule but were arrested by guards ordered by the Communist Party. With the Monarchy now in Communist hands, Bismarck is unable to order a counter-guard-raid. The Palace voted on bills and voting time was over before the Palace could ever vote on the Buggery Act. The act died with 0 yeas and 0 nays.
On October 26, 1976, former Emperor Santiago passed away and attended his funeral.
Ratification of Amendment XXVII Edit
Bismarck wanted his antisemitic policies to be permanent, so he used the widespread antisemitism as an advantage to make it happen. Bismarck teamed up with the antisemitic Chawopolis Palace, and with an antisemitic Supreme Leader favoring this, the Palace proposed Amendment XXVII, an amendment to the Chawosaurian Constitution called the Book of Laws that mandated that in order to repeal an antisemitic law or policy, national, state, or local, it required unanimous consent from first, the legislatures of all the administrative divisions of Chawosauria, the Judiciary, the Chawopolis Palace, and then must be approved by the popular will of the people, but with 100% voter turnout and unanimous consent from the people as well.
The amendment was proposed to the House of Dynasties, and they approved it, it was voted on by all four houses in the Chawopolis Palace, it unanimously passed all four houses, and the votes were unanimously approved by the House of Dynasties, and it was brought to the House of Deputies, a chamber where state legislatures and state leaders meet, each state had 100 delegates, 51 needed to win a state, all states must vote yes to ratification. Bismarck, a master manipulator, successfully got all nations to vote for the amendment, and it passed on August 31, 1977, and on September 1, 1977, Timothy Max Roosevelt signed the amendment into law. The amendment didn't come into effect until January 1, 1980.
Renomination Fight and Defeat in 1979 Edit
Bismarck's fourth term was running up by December 31, 1979. Bismarck attempted to get the new Communist Supreme Leader Timothy Max Roosevelt to nominate him for a fifth term, but Timothy, to Bismarck's surprise as he was just entering Timothy's office to ask for the nomination, Timothy was meeting with Leonid Ivan Bzovsky, Bismarck left the door under Timothy's orders, but held the door on crack and overheard Timothy offering Bzovsky the nomination, infuriating Bismarck and returned to Adare Manor angry. Bismarck then conceded to Bzovsky and accepted his nomination, as Prime Minister, on October 31, 1979, Bismarck was hosting the vote, Bzovsky defeated Bismarck in a 531-69 margin, Bismarck was still considered a candidate for reelection without the nomination. On November 30, 1979, Bismarck held a farewell address outside the Chawopolis Palace with a wide crowd, with the song: "Don't Stop" by Fleetwood Mac, playing before after the address. In the closing of the address, Bismarck tearfully and emotionally said: "I may have not been the perfect Premier, I've made decisions you disapprove of, but 39 years as your Prime Minister has been a deep honour I never thought truly I would receive in my life, I thank you all, and I will miss you so". The speech ended with applause and Bismarck and his family waved at the audience applauding and watched the fireworks spark in gratitude for Bismarck's service.
On election night, December 31, 1979, the Communist Party, now under Bzovsky's incoming leadership, expanded the party's majority by 60 seats.
Departure Edit
After Bzovsky took office on January 1, 1980, Bismarck attended the swearing in of Bzovsky at Adare Manor. Bismarck left office on January 31, 1980, returning to Poiana Brasov and fully retired on February 4, 1980.
Post-Premiership
Edit
Retirement to Biertan, Romania Edit
Bismarck retired completely in 1981 and moved to one of his favorite cities in Romania, which it's Biertan, where Bismarck enjoyed visiting as a child. Bismarck visited the Abbey of St. Carta, where the Nun used to haunt, and lived in Biertan from 1982 to 2001. Bismarck moved to Poiana Brasov, Romania, his true home, and had always enjoyed visiting his great-grandchildren at Poiana Brasov until moving with them in 2001.
Dissolution of the Soviet Union Edit
Bismarck celebrated the fall of the USSR in 1991, and the eastern bloc. Bismarck regains Romania from Communism, and isolated himself from the public.
Private Later Life (1991-2013) Edit
Bismarck spent his later years living in Poiana Brasov. Bismarck lived in Aurelius Hotel, Bismarck enjoyed sleeping and watching TV, comedy, supernatural horror, and historical movies. Bismarck was fascinated by demonology and vampirism. Bismarck taught his great-children, Jonathan Dragan Bismarck XX, Nicholas Dragan Bismarck, Christian Dragan Bismarck, and the others about mathematics, history, and science, even political science, government, and other matters. Bismarck enjoyed babysitting his great-grandchildren and cherished their fun activities. As years go by, Bismarck became vulnerable to death because of his advanced age. He turned 100 years old in 1990, 110 in 2000, and 120 in 2010. By his 123rd birthday, January 26, 2013, it became clear that Bismarck was obviously dying. He looked more older even than a 90-year-old.
In March 2013, he lost his ability to walk, thus developing Polio. Bismarck became handicapped and started feeling the awkwardness of this, Bismarck previously made fun of handicapped people, even 's famous handicapped President, Franklin Delano Roosevelt. Bismarck fears charges of hypocrisy and was determined to keep this secret from his lifelong personal friends and enemies who were still alive until after 2019.
Bismarck's fear of death was escalating because of his laboring life, but personally felt required to make things right for the past mistakes he's made throughout his life. Bismarck personally regretted his narcissistic personality he's had since his youth, and constantly prayed for forgiveness over past sins. Bismarck was afraid to confront his enemies but hinted his remorse for how he treated them by inviting them to his funeral. Bismarck asked his great-grandson, Nicholas, that he would do a eulogy for him, Nicholas accepted and said he would do so. Bismarck struggled to accept black and brown people, and other minorities into his funeral, and maintained his bias discrimination against them in his funeral service.
On November 22, 2013, Bismarck appeared more elderly, Bismarck was too weak to move even a finger, and he fell unconscious. Throughout December, Bismarck laid in his bed in a private cabin in Poiana Brasov, with his family, privately, appearing more elderly than he looked in November. Bismarck woke up on December 20th, 2013, finally able to move, still, except his legs, and felt better. Five days later, Bismarck was sitting in the den in his wheelchair, Bismarck moved his wheelchair and tripped, he fell off his wheelchair and laid on the floor, his caretaker, with help, took him to his bedroom, while still alive, and a nurse was called to watch over him, the nurse was Jolana Mary Boleslaus, the sister of Jonathan Sarban Boleslaus VII and granddaughter of Jonathan Sarban Boleslaus V, Bismarck woke up in bed, noticed Jolana was wearing a Star of David ring, indicating that Jolana was Jewish, Bismarck starred at Jolana for a second, possibly in disgust and he closed his eyes and died peacefully in Jolana's arms.
Death and Funeral
Edit
On December 25, 2013, at Poiana Brasov, in a reserve cabin, Bismarck was brought to his bedroom by his caretaker because he fell asleep, and was still alive when he was put on his bed, Jolana Boleslaus watched over Bismarck until he died in her arms. Nicholas came to Bismarck's room, breaking down in tears and cried at Bismarck's side.
On December 26, 2013, the Bismarck family contacted then Chawosaurian Emperor Antonio Kingston, and Prime Minister Jonathan Dragan Boleslaus IX of Bismarck's passing, the two responded in grief. Chawosauria just lost its former Empress, Elizabeth Mary Alexandria the same day Bismarck died. The two funerals were planned separately, Elizabeth's state funeral was on December 31st of 2013, and Bismarck's state funeral was planned to be on January 4, 2014. The state funeral took place in Bucharest, Romania, for his family and friends, and for Chawosauria's citizenry, at Chawopolis City. Bismarck's casket was fly to Bucharest funeral, and was taken by herse to the Family cemetery at Bismarck Manor. He was buried in a private grave with a wall surrounding the grave, buried to the left of his late wife, Elisabeth Molly Bismarck, and together are sleeping in peace as husband and wife in the Bismarck Family's family cemetery at Bismarck Manor in Bucharest, Romania.
Bismarck is survived by his three sons, Jonathan Dragan Bismarck XVIII, who also just passed away before Bismarck had, Gustavus Dragan Bismarck, and Dionysus Kaiser Bismarck, and three daughters, Elisabeth Maria (nee Bismarck) Bakirtzis, Alexandra Victoria (nee Bismarck) Bakirtzis, and Jennifer Ellie Bismarck. Bismarck was also survived by 25 grandchildren, and over 60 great-grandchildren, some of whom were born into first-cousin marriages.
Bismarck's legacy is often negative towards the Chawosaurian public, biographers from the Gesaffelstein family have expressed doubt that Bismarck's reputation would be improved. Not much is known about Bismarck, but his memory was sometimes split among civilians of Chawosauria. Bismarck's death was widely respected by the Chawosaurian public, but among LGBTQ Chawosaurians, Bismarck's legacy on the topic of gay rights is not good. Bismarck stripped LGBTQ public employees of their protection from discrimination when he first took office in 1940 and was restored by Prime Minister Jonathan Lachlan MacAlasdair VIII. Bismarck was not a hero for black and brown Chawosaurians, Bismarck supported White subjugation over black people, as well as segregation and discrimination. Bismarck blasted Martin Luther King Jr and criticized the United States' Civil Rights Act of 1964. Bismarck promoted and praised discrimination, economic and social inequality against Muslims, Jews, Gay people, Poor people, and Non-White people. Bismarck banned women from voting, working, and being autonomous throughout his premiership.
Public Opinion Edit
Public Opinion is against Bismarck, but not always, he had highs and lows when he was Premier, but most of his entire premiership showed Bismarck at record lows for a Prime Minister. Bismarck took office in 1940 with a 51% approval rating, to 45% of Chawosaurians said they disapproved of him, and from 1940 to 1945, his approval marginally declined and by the 1945 midterm elections, he had a 39% approval rating with the majority disapproval of 55%, partially contributing to his embarrassing defeat for a midterm premier, and his approval ratings continued to fall, but modestly improved when Israel became a nation, and Bismarck stated his opposition, but by the '50s, and '60s, his approval hit record lows, to the 10s or lower, and during the 1975 elections, his approval was 8% while disapproval was at 88%, making it harder for Conservatives in Chawosauria to win votes.
Approval Rating of Jonathan Dragan Bismarck XVII
After the 1975 elections, Bismarck's approval rating sharply improved but not enough to get out of the majority disapproval zone, and by the time he left office in 1979, his approval was 21% and disapproval at 70%, and then the only post-premiership approval rating showed Bismarck at 21% approval, but 69% disapproval. Today in Chawosauria as of 2019, Bismarck continues to have low ratings, often rated as one of the worst Prime Ministers, alongside Jonathan Dragan Boleslaus IX, Malcolm Lyons MacKenzie Wilson, and Frederick William Schwartz.
The factors of Bismarck's low ratings attributed largely to the fact that he is a member of the widely unpopular Bismarck family, some because he was a Christian (see: Public Opinion on Christianity in Chawosauria), others because he was out of touch from Chawosauria's emerging political left-leaning electorate, the fact that Bismarck uses the premiership to further enrich himself, his Anti-Communist stance, and his controversial support for Adolf Hitler and his Nazi regime during the war.
By 2019, Bismarck is widely and pejoratively compared to Donald Trump, this comparison is so bad that he is sometimes called "Chawosauria's Donald Trump" for Bismarck's views on foreigners, religious minorities, and human rights record that is often compared to Trump's human rights record on immigrants and religious minorities, which it's often negative. Others say while Bismarck and Trump do have bad records on civil rights, Bismarck's record on human rights is more toxic than Trump's, and that Bismarck would never approve of nor support Trump's foreign policy approach on Israel nor approve of Trump's personal connections to Jewish Americans like Jared Kushner, who is Trump's son-in-law and White House advisor, Bismarck is seen as the Chawosaurian version of Adolf Hitler, Bismarck's been compared to Hitler widely before Trump appeared in politics.
A June 2019 survey polled Chawosaurians with this question: "Who do you compare Bismarck to, Trump, Hitler, or both?" The results were split, 41% say Bismarck is the embodiment of Hitler, 43% say Bismarck is the embodiment of Trump, but 16% say Bismarck embodies both men.
Legacy among Chawosaurian Jews Edit
A very bad reputation to the Chawosaurian Jewish community, Bismarck is beyond hated by Chawosaurian Jews. In fact, Chawosaurian Jews still face the struggle imposed by Bismarck.
Jonathan Dragan Bismarck XVII Day (or Bismarck Day) Edit
Jonathan Dragan Bismarck XVII Day, every 26th of January (his birthday) is the holiday that celebrates and honors Jonathan Dragan Bismarck XVII, but a controversial holiday among Jewish Chawosaurians, while the holiday is expanding, it is being restrained away from Chawosaurian Jews all over Chawosaurian Europe. Other continents haven't proposed celebrating the holiday yet.
As a White Supremacist Icon and Popularity among White Chawosaurians Edit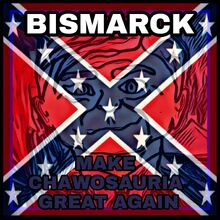 Chawosaurian White Supremacists idolize Bismarck as a messiah, sometimes an actual deity. Bismarck is viewed as a "white hero" or "the white messiah" of White Chawosaurians. Bismarck is today one of Chawosauria's most victorious white supremacist figures in Chawosaurian History.
Bismarck has a racialized gap when it comes to popularity, White Chawosaurians tend to believe Bismarck was a good prime minister, while Chawosaurians of color believe Bismarck was not a great prime minister. Bismarck's popularity among Black Chawosaurians is way below 10%, and his popularity among White Chawosaurians is in the high 50s. Among Hispanic Chawosaurians, Bismarck's popularity is in the low 20s or lower, Asians in the high 30s, and other ethnicities, 40 to 50% range.
Inspired by the Donald Trump 2016 Presidential Campaign in the United States, White Supremacists in Chawosauria created the mottos "Make Chawosauria Great Again" and "Chawosauria First", both inspired by "Make Great Again", a motto used by both Donald Trump and Ronald Reagan, ironically, the motto was also used by Bill Clinton in a speech back in 1992 when he was running for President, and "First", an old white supremacist motto, the First idea was modestly implemented by the Trump Administration on foreign policy when it comes to trade and international relations. Chawosaurian nationalists wanted a "Chawosauria First" policy despite the fact that Chawosauria already has a unilateral approach to foreign policy.
A Conservative Icon Edit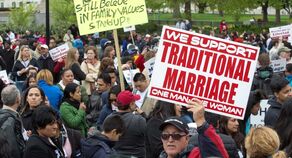 Bismarck opposed socially liberal concepts including reproductive rights (abortion), legal recognition of homosexual people, egalitarianism, and labor rights. Bismarck opposed same-sex marriage, but he was too conservative even for conservatives, Bismarck opposed all anti-discrimination laws in general, opposed employment, housing, and judicial protections for race, religion, ethnicity, gender, sexual orientation, and disability. Bismarck advocated for a Christian theocracy, a corporatocracy, and he opposed democracy, even representative democracy, this goes against some conservatives.
On the issue of abortion, Bismarck viewed abortion as "taboo", and privately expressed strong disgust towards the practice. Bismarck, still Prime Minister then, condemned the Roe v. Wade decision in 1973 that legalized abortion in the United States nationwide. In 1975, Bismarck vetoed a bill that would fund abortion clinics, the veto was overruled by Emperor Santiago.
Chawosaurian Conservatives' praise to Bismarck has always alienated Conservatives who are Jewish, causing several of these Conservatives to roll back their endorsements for Bismarck, some say Bismarck wasn't antisemitic although none of these defenses were true,
The Chawosaurian Left Edit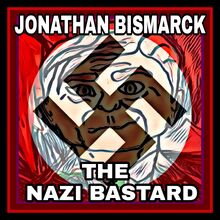 Chawosaurian Left-Wingers intensely politicize Bismarck, sometimes inappropriately, because big Chawosaurian historical figures are not to be politicized for political gain. Bismarck struggled to push back against the rising Chawosaurian Left and he conceded defeat when he left office in 1979. Bismarck is hated by leftists for his conservative approach. Egalitarians hate Bismarck so much, and environmentalists, hippies, communists, socialists, progressives, and other left-wing activists all hate Bismarck.
The Jewish left has condemned Bismarck nonstop, the Chawosaurian faction of the Israeli Labor Party condemned the passage of Bismarck Day and helped passed a law banning the holiday.
Bismarck National Memorial Edit
The Bismarck National Memorial was constructed from 2015 to 2019 in response to his death in 2013. The construction was planned in 2014 and construction began in 2015. On July 1, 2019, the Chawosaurian government announced the completion of the memorial and will be open by January 26, 2020.
Awards and Honors
Edit
Honors and Coats of Arms of Jonathan Dragan Bismarck XVII
Family Coat of Arms
Personal Coat of Arms
Medal of Honor
Coat of Arms for Honor
Planned, March 1, 2019
TBD
TBD
TBD
TBD
Other Awards
Lievremont Academy

Medal of Determination
Student Coat of Arms of Jonathan D. Bismarck XVII
Athletic Medal of Lievremont Games
Orbian World Cup

Empire of Chawosauria

Medal of Determination
Coat of Arms of Jonathan D. Bismarck XVII
House of Bismarck in Chawosaurian Boarding Schools
On January 26, 2014, on Bismarck's 124th Birthday a month after his death, Bismarck was awarded the Family Coat of Arms from his family.
Family Tree
Edit
The Romanian and German faction of the Bismarck Family reside mostly in Romania.
Physical Appearance, Personal Life, and Style
Edit
Jonathan Bismarck was a tall man, his hairstyle is that he allows it to hang freely on his forehead, but slicks his hair on top and the sides of his head. Bismarck had a vampire voice, deep, with a strong Romanian accent. Bismarck spoke two languages, his native language, Romanian, and his ancestral language, German. Professionally, Bismarck wears a suit and a black fur cape. Bismarck wore rings on his fingers, colorful stone rings. Bismarck is often seen as handsome looking until he started aging to old age.
Bismarck, in his personal life, enjoyed a quiet moment in his time of vacation, Bismarck enjoyed traveling to his favorite cities in Romania, Biertan, Saschiz, and Rășinari where Bismarck enjoyed going to mountain and hunting troops to Transylvania. Bismarck reads books privately, on history, mythology, political science, and demonology. Bismarck reads the bible everynight before bed, and when in a bad mood, stressed, or angry, he blames the Jews for his problems.
Bismarck's sexual desires, especially around Theodosia McClellan, the granddaughter of Theodore McClellan and goddaughter of Garfield Lucas Webster that Bismarck had always wanted sexual advantages with since her birth. Bismarck's sexual interactions were with his cousins, close or distant, and with other women. Bismarck's great-grandparents, Jonathan Dragan Bismarck XIV and Elisabeth Viktoria Zsivoczky, were first cousins, and cousin marriage ran in his family, as a result of the ancestral inbreeding, Bismarck had little trouble using his legs, and he was proven to be mentally unstable although being a smart person with a prominent career.
In terms of health and mentality, Bismarck's physical health is met with very little challenges, but severe challenges in terms of mental health. Bismarck's mental health threatened his physical health occasionally, for example, Bismarck pays much attention to Jewish people when getting angry, he would overdrink at the expense of his physical health. Bismarck's reason for hating Jews was religious, he was told countless times that Jews were responsible for the death of Jesus Christ and that the Jews do not consider Christ as the messiah always threw Bismarck in a rage because of his refusal to accept others' opinions and views, and he believed his views and opinions, also himself, were superior, this mental state was influenced by the fact that Bismarck was born wealthy to a prominent aristocratic family. Bismarck did everything to make himself look good, he was already handsome looking, but kept his body restrained by working out but he neglected his body when he works in a tough white collar job, he gains weight, but loses weight in the 1960s. Bismarck's weight is in the good scale his whole retirement, causing him to live an extended lifespan.
See also
Edit
Community content is available under
CC-BY-SA
unless otherwise noted.