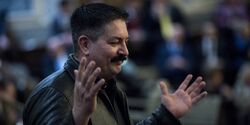 In the
2019 federal election
, the
IronStache Strategy
is a purposed
populist
strategy purposed by the populist wing of the Capitalist Parties. The strategy is that the Capitalists bring up a candidate who is not an Aristocrat like JSM and the Bismarck Family, and bring up a candidate who is part of the working class to appease Chawosauria's working-class voters who are increasingly voting for the
Communist Party
in the 2018 elections and the federal election of 2019.
The IronStache Strategy was originated from the inspiration by an American Ironworker, Randy Bryce, who was nicknamed "IronStache" because of that upbringing, and he in 2018 is running for the U.S. House of Representatives for the Democratic Party in the Wisconsin 1st Congressional District being led by Republican Paul Ryan, who is now the House Speaker.
The strategy is being rejected by the Aristocratic establishment of the Capitalist Parties.