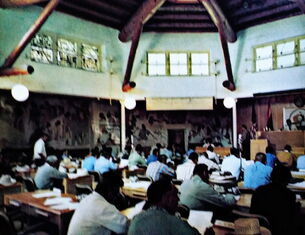 Under Chawmanian and Chawosaurian Laws, Homophobia and Biphobia are intolerate and is illegal, LGBT Chawosaurians are not tobe harassed and or bullied for any reason, according to the Chawallian Code of Conduct, Homophobia is illegal and is not tolerate anywhere in Chawosauria, Chawosauria has zero-tolerates for any Homophobe Act, such as terrorism and or harassment and threats against Homosexuals and Bisexuals as a result to Timothy Max Roosevelt.
According to the Timothy Max Roosevelt era, Homophobia was a Capital Crime until 2016 and Homophobes during the Chawosaurian Revolution were raped and killed each day and were raped to death during the end of the Chawallianic Wars and the Chawosaurian Revolutionaries stoned the Homophobes to death as well as they stoned Biphobes to death, the Chawosaurian Revolutionaries believe in murder and assault on Homophobes and Biphobes and believe they must be put to death on the snow and dirt. Homophobes who do terrorized Homosexuals are stoned on their heads and their teeth off their gums and that were the punishments during the Chawosaurian Revolutionary War and any Homophobes who speaks and or preached against Homosexual Acts will be considered Homophobe and would be stoned as well, some would be raped to death.
The Censorship of Homophobes are available in Chawosauria and the Revolutionary War and the Stoning of Homophobes were all brutal and impossible to imagine, the Chawosaurian hatred against Homophobes is even more brutal based on how the Chawosaurians were raised and don't approve any biblical acts, any homophobe who puts up a sign that says "God hates fags" will be stoned on the head and back and teeth and nose and arms will be stepped on and punched on the face.
In 1968, Adsila Ahyoka's brother was Homosexual?, and had committee suicide for Adsila's husband's Homophobe Behavior and Adsila was extremely heartbroken and felt she lost a friend. In the same year, Chawallianity passed several more Anti-Homophobe Laws.
Suicide of Galegenoh Atagulkalu Edit
Galegenoh Atagulkalu had committee suicide in Brazonia County, Texas and the suicide had spread from Chawosapia to Chawosauria and Galegenoh was either Homosexual or Bisexual and had committee suicide because of his future brother-in-law's homophobe behavior and had led him to suicide which had caused his family to pay a huge debt of $ 90,235 for funeral arrangements.
Chawosauria saw a bigger problem with Homophobia in America, worse than racism in America, Chawosaurian Governments ordered the order of restriction to all homophobe concentration camps that were opened in Chawallianity during the Timothy Max Roosevelt era and got in involved in the issue. In 1970, Chawosauria believed homophobia is murder and corrupted and had been unified to reform the laws against Homophobe Behavior.
Galegenoh Atagulkalu Foundation Edit
In 1970, the honor of Galegenoh Atagulkalu had been participated for 40 years and the murderer of Galegenoh had admitted that he was wrong and he deserved tobe punished for homophobe behavior, he began to support LGBT Rights and admitted that he'll regret Galegenoh's suicide until the day he dies and Abooksigun Eluwilussit (murderer) had saw a demon in him in a mirror one time after he heard Galegenoh committee suicide because of his homophobe behavior. Abooksigun said "i never see myself in a mirror again" in 1973, he published a book in Chawosauria called the "Gay Ghost", based on Abooksigun's nightmares of Galegenoh's ghost came back to haunt him for revenge for his homophobe acts.
Continent Union
Edit
The Continent Union may assign a referendum that would legalize Homophobia after, on July 10, 2016, Abooksigun Eluwilussit vetoed a Homophobia Legalization Amendment, but signed into law, the Referendum Amendment by January 17, 2017, only if he wins the 2016 Primary Election.