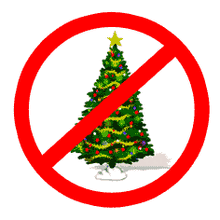 Chawosauria widely believes Christmas is a Christian Holiday, which purposes for Christmas is to recognize and celebrate the birth of Jesus Christ, the Messiah, and son of god, but here's the problem with Christmas in Chawosauria, Christmas is illegal in Chawosauria because it's a Christian Holiday, and Christianity is not allowed in Chawosauria, the celebration of Christmas is a serious capital crime in most Chawosaurian Jurisdictions, while the holiday is a serious crime, but carries up to life imprisonment in some Jurisdictions.
Chawosauria knows the History of Christmas, Christmas has both Christian and Pagan roots, for example, the Christmas Tree is a Pagan ritual, and a Pagan tradition, while believing that Christmas is the birthday of Jesus Christ, that's a Christian tradition and Santa Clause is based on a Christian Figure Saint Nicholas.
In Chawosaurian Culture and Society, Saint Nicholas is a very popular name, mostly used as a Middle Name because of Chawosaurian Emperor, Johnathan Saint Nicholas Montgomery, notable Chawosaurians named Jonathan Saint Nicholas Brunswick, Jonathan Saint Nicholas Bismarck, and others.
Chawosauria proudly and strongly refused to recognize Christmas as a Religious or Secular Holiday and refused in a proudly and strong manner to allow Christmas and classify the holiday as their official holiday.
History of Christmas in Chawosauria
Edit
Chawosauria's First Christmas Edit
During the Timothy Era, in December 2000, Christmas was not legally recognized, but the Pacificans, Chawosaurians who live around the Pacific Ocean, became the first Chawosaurianic Groups to Celebrate Christmas. The Pacificans celebrate Christmas in a Secular Manner instead of in a Christian Manner. Timothy in response to the Pacificans' celebration of Christmas, passed the Christmas Codes to regulate their right to celebrate Christmas annually. This is the first Recorded Christmas Celebration in the History of Chawosauria.
Controversy
Edit
Chawosauria widely disapproves Christmas as a holiday and condemns it as a Christian Holiday, Chawosauria is not a fan an allowing Christmas because it's a Christian Holiday and do not want to celebrate it in a religious manner or secular manner, Chawosauria criminalizes Christianity, back in the time when Timothy Max Roosevelt was Dictator, Christianity was subjected to death sentences, but during the Revolution Era, Most Death Penalties against Christianity were repealed and were replaced with spending Life Imprisonment with 20 hour a day Hard Labor as Punishment for believing in Christianity.
Chawosauria had a history of tolerance towards Christianity until the rise of Timothy Max Roosevelt in the 1940s which that was when Tolerance towards Christianity dissolved, in 1949, Christmas becomes an official national federal serious capital crime.
Widely Views on Santa Clause
Edit
Santa Clause is widely viewed by Chawosaurian Citizens as "Demonic", a Demonic Figure, and he is widely viewed by Chawosaurian Parents as "A Creeping Pedophile", and is taught in that manner in all Chawosaurian Schools K-12 Grades, Education Administration Wide.
Santa Clause is widely ridiculed by Chawosaurian Teens and other children from ages of 4 to 19 as a Creeping Pervert, a sexual predator who wants to give toys that don't even belong to the kids, however, all Chawosaurian Schools teach that Santa Clause is a Child Molester, which caused controversial mistreatment to the Christian Community because Santa Clause is the mascot of Christmas and Christmas is a Christian Holiday.
Widely Views on Jesus Christ
Edit
Jesus Christ is widely silent in all Chawosaurian Story Parts and is never mentioned by Chawosauria's Author in the mythology.
According to Chawosaurian Society, Jesus Christ is widely ignored, even though he does get ridiculed in comedian standup shows and comic books, comedian films are not allowed in Chawosauria, but do allow the Ridicule of Christ in political cartoons and comedian cartoons.
Widely views from Chawosaurian Society saying that Jesus is gay or transgender because of his long hair with a beard, which causes Homophobic ridicule and anger to the LGBT Community in Chawosauria, but not very often, Chawosauria is using Christ as a figure of ridicule speech and insulting language.
Christianity and Chawosaurian Law
Edit
Under Chawosaurian Law, Christianity is illegal and carries the penalties of death, life imprisonment, torture, slavery and 20 hours a day hard labor.
See also
Edit