On October 7, 2018, Seminolia was struck by Hurricane Michael and led to the nationwide flooding of the country. Despite Seminolia's independence from the Empire of Chawosauria on August 2009, Chawosauria still bears responsibility over Seminolia and Chawosauria promised to protect and provide for Seminolia even in times of natural disaster. 
Seminolia was hit by Hurricanes recently, and Chawosauria under Antonio Kingston with Hurricane Sandy in 2012, and Abooksigun Eluwilussit with Hurricane Matthew in 2016 always provided for Seminolia. Degotoga K. Atagulkalu ignored Seminolia, but also other Chawosaurian Territories. DKA ignored the Chawosaurians who were struck by the 2017 and 2018 Hurricane Seasons on which where Hurricanes hit. The Chawosaurians in the Gulf of Mexico and the Caribbean Islands who were hit by Hurricanes Harvey, Irma, and Maria voted for DKA anyway in the December 2017 Special Election due to a strong faith that DKA will provide for them.  
Background
Edit
Hurricane Michael Edit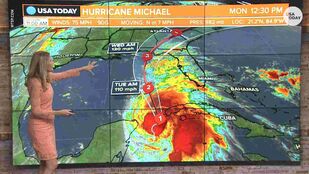 Seminolia and the rest of Gulf states of America and the Caribbean were hit by Hurricane Michael on October of 2018. Florida, Georgia, and the Caribbean were all flooded and leaving many homeless.
Degotoga K. Atagulkalu's response Edit
DKA ignored Chawosaurians who were struck by Hurricanes in 2017 and 2018 since taking office on February 24, 2017, DKA never got any backlash from it until when Hurricane Michael struck a Neo-Chawosaurian nation, Seminolia, and then the backlash began. On October 14, 2018, and October 15, 2018, Seminolia asked DKA for assistance but declined the requests.
Hurricane Controversy Edit
On January 9, 2019, Chawosaurian Investigations discovered that Chawosaurian Recovery and Humanitarian commissions, and organizations were defunded by the Chawosaurian Government under the bombshell orders of Degotoga K. Atagulkalu.